This Man Received a Kidney from A Stranger who Saw his Wife's Plea on Facebook
A New Jersey man has gotten another chance at life, thanks to a stranger who found out about his case in the comment section of a post last August and tracked him down on Facebook.
Bill English, 35 told People he received the sad news that his kidneys were failing in 2015, and he needed a new one to stay alive. His wife Laura, 35 with whom he has two children aged 4 and 2 with, set up a Facebook page, then called: "Be Our Daddy's Hero" to ask the public for a donor.

Laura told People:
"I was hopeful that it would work. I had to do something. We didn't have anything to lose. When he first got listed [on the organ transplant registry], he was living life on a machine. To ask somebody to give a piece of themselves to keep him alive was a big ask. I was hopeful, but I didn't necessarily think a stranger was gonna donate."
The donor, Amy Pauvlinch, 28 of Pittsburgh, Pennsylvania, after seeing Laura's comment on a post about a man who walked around Disney World asking for a kidney donor and eventually found a match, soon found the "Be Our Daddy's Hero" Facebook page and reached out.
Pauvlinch told People:
"I just knew that this is something that I had to do. Something in my heart was like, 'This is the person you're supposed to contact'. I ended up messaging her and I said, 'I'd really like to give your husband my kidney.' It was very, very awkward."
Laura and Pauvlinch spoke for weeks and she later met the family. "I couldn't even describe the experience. It was pretty surreal. When I first met them, was like, 'This family's gonna have my kidney!' It was amazing… this is the family that I'm supposed to help and come hell or high water we're gonna do this together. It was like magic," Pauvlinch said.
After months of testing and preparation, Bill and Pauvlinch went into the operating room at Jefferson University Hospital for the transplant on July 3, 2018. Bill said:
"She was a good match and, once we found that out, our level of hope and excitement grew. Mentally, I was prepared for the worst for years. Then all of a sudden it was happening. I didn't know how to take it. I was too amazed. It hit me, like, 'Oh my God! this is happening.'"
Both of them are recovering fine, and according to People, they felt "great" after the surgery.
"It's amazing. I feel like a whole new person. I felt good right away. Once I was out of the anesthesia, I was in the best mood I've been in in like three years," Bill said.
"It's so awesome and surreal, still, to know my kidney is in his body kicking so much ass for him!!" Pauvlinch wrote in an Instagram post earlier in July.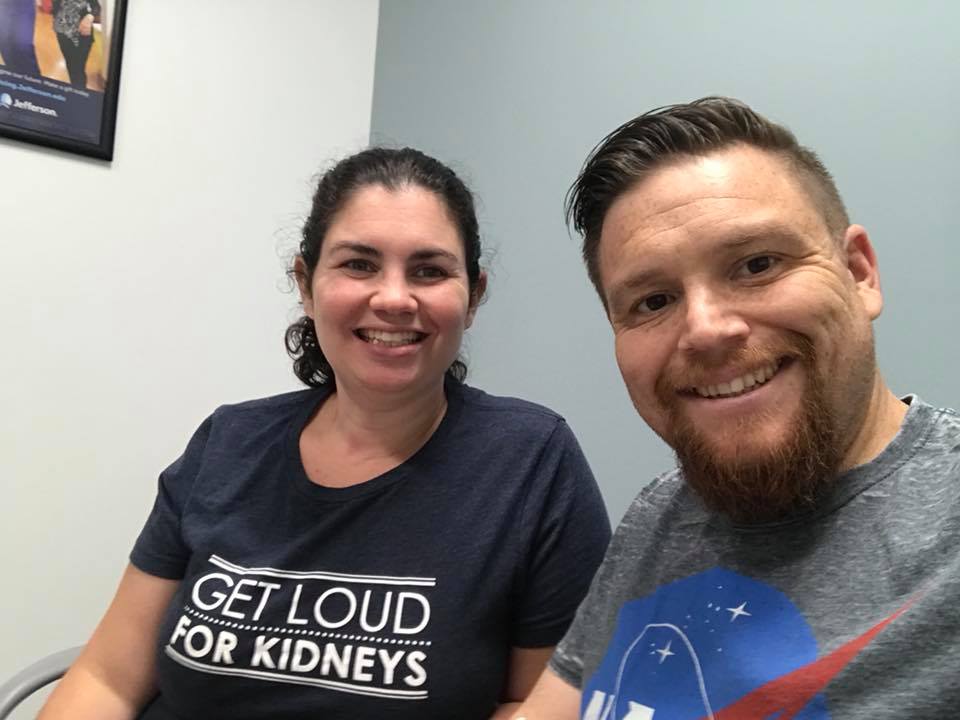 Laura shared an emotional post on Bill's journey on Facebook following the success of the procedure. She wrote:
I held my breath when the doctor said you needed to start dialysis…

I held my breath when you commuted an hour to work everyday & then spent 3 nights a week on a machine…
I held my breath when you spent 10 days in the hospital for sepsis in your dialysis perma-catheter…

I held my breath when you lost your job because the effects of kidney disease and dialysis caught up to you, making it difficult to work…

I held my breath watching you experience side effects from living on a machine (migraines, nausea, exhaustion)…

I held my breath every time someone sent a message to me through the kidney page, wondering if they would be the one…

I held my breath for the CALL…

And the CALL finally came and we found your angel kidney!

Tuesday, I breathed a sigh of relief when I spoke with the surgeon and you successfully received the GIFT OF LIFE and a functioning kidney!

Today, I EXHALED, as you came home from the hospital with a new lease on life and new possibilities. We know this gift may not last forever and there will be bumps in the road, but tonight I EXHALE.

If nothing else, this journey has taught us just how fragile life is and at any moment it can change. We continue to be cautiously optimistic and make plans for the future filled with hope and good health. We thank Bill's hero for this gift and the ability to imagine endless possibilities for our family. ❤️🙏🙌💚
#becauseofanorgandonor #giftoflife #livingdonor #organdonation
Infinix Note 8 on celebrity talk show Rubbin minds with Ebuka, first smart phone in Nigeria
Last Sunday, the Rubbin minds show took an unexpected but totally pleasant turn as popular presenter and
anchor of the show, Ebuka featured Infinix Content Manager, Kevin Olumese, on a special edition for the recently
launched Infinix Note 8.
If you'd cast your mind not so far back, you'd remember that Infinix set a record with the Note 8's predecessor
(Note 7) earlier this year when it was launched in a short, Infinix-customized show which was studded with
celebrities. On Sunday, Infinix set another record as it became the first smartphone to be launched on the
celebrity talk show- Rubbin Minds.
If there's anything that's more interesting than the sound of this new achievement, it surely will be how exactly the
show went down.
As usual, Ebuka drilled deep into the business of his guest which, on this show, was the Infinix Note 8. No
questions were spared and Kevin, Infinix's representative, did well to provide precise answers to every question
asked as regards the Infinix Note 8 and the Infinix brand on the show. And, as usual, both the anchor, guest and
most certainly, the viewers at home had a great time sharing laughs and conversation around the Note 8. The
show got off to an early start as Ebuka asked why the Note 8 was codenamed the Night Shot King. Kevin's
simple answer to the question was "Simply put, it takes awesome shots at night." However, he did us one better
as he explained in more detail what the Note 8's night shot camera has to offer.
According to Kevin – and, backed up by several reviews online – the Note 8 comes with a 64MP Ultra HD, Nights
shot camera that introduces adequate lighting into low-light scenes and makes it possible to capture beautifully lit
images with true-to-life beauty and rich colours during the night time.
Kevin posited that this device could not have come at a better time than now. His reason for holding that position is that if the pandemic has thought us anything it'd be to cherish the moments that we get to share
together. Luckily, the lock-down has been eased all over the world and lovers, friends and people in general are
beginning to meet and hangout with themselves once again. Because these meetings are more special than they
used to be, it's only apt for us to want to have them captured and saved up regardless of the time and the Note 8
makes sure that this is achievable at any time round the clock.
Among other features of the Note 8 that was discussed on the show was the device's 6.95inch HD+ screen. The
super-wide screen is good for mobile gaming, Netflix or YouTube binging, bantering on social media and
consuming every form of visual content.
Other features include the 16Mp dual selfie camera that sits right in the top left corner of the devices screen, eliminates the upper notch, and captures crisp images. The device also comes with a mobile game-dedicated
processor called the MediaTek Helio G80 processor and runs on a 5200mAh battery.
During the course of the show, Kevin also revealed other things like why the brand adopts the type of designs
and uses the colour options that it currently uses for its product. He also shed some light on why Infinix has
Davido as its brand ambassador and why the brand has a keen interest in entertainment. This was a very
expository moment on the show.
Towards the tail end of the event, Infinix announced two of its empowerment activities that are already ongoing.
The first is the Storm X challenge, designed for young entertainers who can either dance or sing. Infinix has
promised to reward the winner of the challenge with the opportunity to feature one of Nigeria's leading artiste.
The other empowerment activity is called the #EmpoweredByinfnixNote8 campaign and is targeted towards
young entrepreneurs. At the end of the campaign, lucky entrepreneurs will walk away with 1million naira
empowerment fund.
Interested participants can follow @Infinixnigeria on Facebook, Twitter r Instagram to get more details on any of
the empowerment activities.
This special edition of the Rubbin minds show was truly insightful and engaging and Infinix is set to entertain
viewers once more as they also announced that they'd be the lead sponsor of the second edition of the Turn Up
Friday which is set to kick off later this month.
Infinix has always devised means to connect better with their fans, and they seem to be intensifying their efforts
during this final quarter of the year. Hopefully, this move will yield great dividend for them as they prepare for the
end of the year.
Atiku Reacts To Killing Of 43 Borno Farmers By Boko Haram
Former Vice President, Atiku Abubakar has urged President Muhammadu Buhari to rejig the security architecture of Nigeria following the continuous attacks of Boko Haram in the nation.
This is coming following the beheading of 43 farmers in Zabarmari, less than 20 km from Maiduguri, the Borno State capital by suspected Boko Haram members.
Reacting in a post on his Twitter page, Atiku expressed sadness over the tragic incident, describing it as heartbreaking.
Also Read: Presidency Clears Air On N150,000 Monthly Payment To Repentant Boko Haram Members
The former presidential candidate condoled with families of the slain farmers in Borno State.
He wrote:
"Heartbreaking. Words fail me. The lives of our citizens should be worth much more than this. The rejig of the nation's security architecture is long overdue. May their souls rest in peace and may their families be comforted."
Heartbreaking. Words fail me. The lives of our citizens should be worth much more than this. The rejig of the nation's security architecture is long overdue. May their souls rest in peace and may their families be comforted.https://t.co/e3V0vRVdFT

— Atiku Abubakar (@atiku) November 28, 2020
Shehu Sani Condemns Attack By Boko Haram On Borno Farmers
Former lawmaker, Senator Shehu Sani has condemned the gruesome killing of 43 Borno farmers by suspected members of the Boko Haram sect.
The former lawmaker who reacted via a statement on his Twitter account lamented that Nigeria has continued to bleed in the hands of the evil ones.
Also Read: "This Is A Matter Of Life And Death" – Fani-Kayode Reacts As Sultan of Sokoto Declares North Insecure
He wrote:
"The reported massacre of over 40 farmers by insurgents in Borno state earlier today is condemnable. This is recurring news for some, but a horrible tragedy for the children, wives, and loved ones they left behind. Every dawn of a new day, our nation bleeds in the hands of evil."
The reported massacre of over 40 farmers by insurgents in Borno state earlier today is condemnable.This is a recurring news for some,but a horrible tragedy for the children,wives and loved ones they left behind .Every dawn of a new day,our nation bleeds in the hands of evil.

— Senator Shehu Sani (@ShehuSani) November 28, 2020