Lagos Traffic Problem Is More Terible Now Than Ever Before
It is no news that the Lagos traffic congestion is not for the lily-livered. If you reside in Nigeria, it is impractical to be oblivious of the Lagos traffic gist. To some Nigerians in other states, the traffic condition is over-flogged; however, if you have ever lived in Lagos you would have an entirely diverse analysis.
The duration which Lagosians waste in traffic every day is quite disturbing. The traffic situation in Lagos has remained a chief hassle in the city. It is even alleged that you can buy your household needs in Lagos traffic. Notwithstanding the fun and amusement Lagos offers, the traffic clause is one of the downsides which take its toll on your entire day.
The amount of traffic gridlock in the city may make you want to consider leaving your car in traffic then advance to taking a long walk home. Worse still, the traffic condition in Lagos does not walk alone, it is escorted by its siblings, noise and air pollution.
The eminence of life, competitiveness of the industrial base and the ability to attract and sustain big business and sightseeing, all hinge on the provision of safe, fast, reliable and convenient roads, including access through public transit. Economic growth brings with it some jamming during busy times.
Over the years, Lagos has witnessed rising transport demand and road traffic which have led to increasing gridlock and delays (go-slow) occasioned by greater access to cars, access to credit, population growth and large supply of used cars; as well as poor quality of driving, especially by those who drive commercial vehicles or transit vehicles.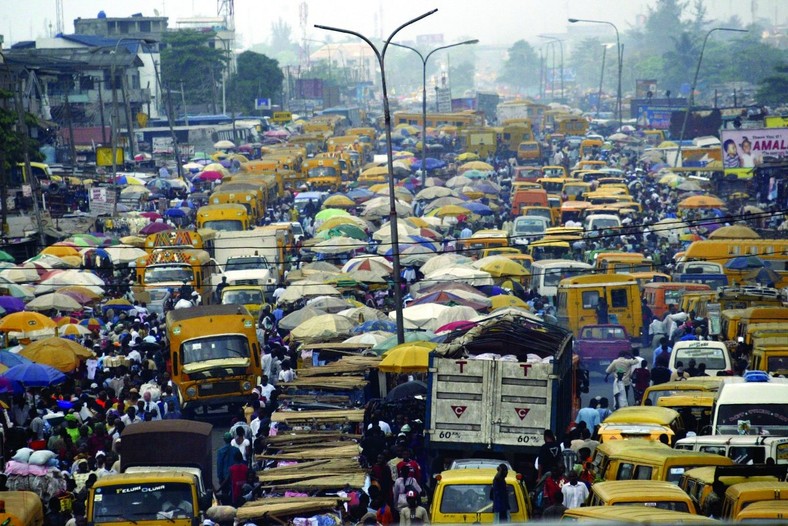 A Never-Ending Tale
Gridlock in Lagos affects both car and public transport users and produces losses in terms of economic effectiveness and other downbeat social effects like road accidents. Congestion in Lagos State is worse than many, perhaps most, other states in Nigeria. More important, it is getting worse, year by year.
The impact of traffic congestion is overt to anyone witnessing setback on Lagos roadways.
A motorist, Olaniyi, 42, says the congestion is caused partly by road users themselves.
"Lagos road users are known to be very intolerant and terrible at obeying traffic rules."
Without a doubt, many times traffic congestions have been caused by a driver declining to give way for another road user. The comeuppance of congestion is in many folds; some directly affect the drivers' sense of wellbeing, be it times worn out sitting in a traffic queue and the changes in the behaviour of drivers.
Such behaviour — according to the middle-aged and eloquent Olaniyi — might include "rude gestures, verbal insults, consciously driving in an unsafe or aggressive manner, or making threats.
"This can further lead to altercations, assaults, and collisions which result in injuries and even deaths.
"Other effects include missed appointments, higher fuel bill, decreased productivity, and a high degree of stress and so on.
"Some of the effects are less palpable, such as the impact on the environment."
Olaniyi further stated that "commuters, commercial drivers and private car owners should be accurately enlightened on the traffic signage, traffic law and also, they should be well-informed on the penalties of flouting traffic law and signage."
In a short interactive session with Tajudeen Asiru, a 34-year-old civil servant at the Ministry of Information & Strategy, Alausa, Ikeja, "traffic situation in Lagos gets worse as the day goes by as a result of the poor condition of roads in Lagos.
"There is scarcely any stretch of road that is completely free from potholes and bad portions.
"In rainy season, living in Lagos can be horrendous as the roads are mostly flooded due to blocked drainage channels.
"The lack of control of residents in Lagos has contributed to the predicament of traffic congestion in the state. Driving in Lagos requires a lot of patience and tranquillity as you are bound to see other drivers whose unruly manners would almost drive you over the edge.
"Lagos drivers hardly obey traffic rules.
"The problem of on-street parking is caused by Lagosians as well as other forms of trading activities which disrupt the free movement of cars."
Good road network, encouragement of mass transport system, proper traffic planning/management, regular road maintenance, construction of interchanges and regular education of road users are among the recommendations suggested by Mr Asiru to reduce traffic congestions in the megacity.
Briefly responding to a stranger-journalist, a young man who prefers not to be named, says "bad roads, trading activities, on-street parking, poor drainage, frequent vehicle breakdown, narrow road sections, religious activities, high volume of traffic, lack of parking space, menace of area boys and unscrupulous policemen, lack of traffic light at some road intersections, bad attitude of many Lagos drivers, over-dependence in road transportation are the reasons why traffic congestion will remain a constant feature of Lagos state.
"They say Lagos has a master plan but there's a difference between a plan and a paper-work. Is there really a holistic plan for Lagos and Lagosians in their entirety or is it just restricted to a particular place and people?
"When we are able to answer this question, then we can determine the possible way out on the menace of traffic congestion in Lagos", he added.
 Way Out — FRSC Official
A Corps Marshal of the Federal Road Safety Corp, Modupe Jikeme, posited various measures to solve the increasing gridlock in the state. According to Mrs Jikeme, "new acts enabling severe punishment for erring drivers and corrupt official should be promulgated.
"This is probably the most important action that needs to be undertaken to improve the prevailing congestion in Lagos as the majority of drivers do not obey traffic laws owing to self – indiscipline, and apparent inefficiency of the pertinent agencies established to enforce the laws.
"Despite being an official of the FRSC, I must admit that some measures that are supposed to help resolve traffic in Lagos have not been implemented by those at the helm of affairs, coupled with some bad eggs in the agency.
"The FRSC should mount sufficient towing vehicles in offices positioned close to the dark spots for swift response once such telephone calls are received.
"Road space diminution and hitch owing to collapse vehicles contribute notably to congestion in Lagos.
"As congestion is caused by increased traffic volume and density, which in turn are prejudiced by road design and behaviour of individual driver, it is much loved to diminish or perhaps eradicate the negative aspect of the latter.
"Although one of the key roles of present FRSC is to publicize safe driving, it appears this has not been helpful, based on the driving culture of Lagos motorist.
"The situation has deteriorated so badly that it often joked that prospective drivers in Lagos should "remember that every road user is mad.
"This situation is compounded with the ease at which a driving licence is obtained. Many drivers, especially commercial drivers often obtain licence without due driving tests by bribing the license authorisation officers.
"The FRSC should carry out proper driving tests and commence enormous efficient ads of safe driving and the ruthless penalty from not obeying the traffic rules or trying to obtain a driving license through bribery or other fraudulent ways."
Why Nigerians Protest Creation Of SWAT Police
In the wake of nationwide protests against police brutality, the inspector-General of police, Mohammed Adamu announced the disbandment of Special Anti-Robbery Squad (SARS).
This decision was made after Nigerian Youths stormed the streets to take action and call for change. The Nigerian government had no other option than to yield to the demands of the people, who came out in their number to stage demonstrations and to request for the termination of the notorious police unit following reports that they were misusing their powers to inflict pains on innocent citizens.
The nationwide protests which gained momentum kicked off on October 8, after a video emerged showing SARS operatives allegedly shooting and killing a young man infront of Wetland hotel in Ughelli South local government of Delta State.
'Young People' are often being targeted as they are constantly harassed either because of their looks and the type of gadgets and vehicles they make use of. Hence, they decided to take charge of their lives because they are tired of being oppressed and abused by the same people meant to be protecting them.
The #EndSARS hashtag goes back to 2017, and it started off as a Twitter campaign used by people to narrate their experiences of police brutality. The campaign elicited responses from people who have suffered at the hands of the rogue police unit.
SARS was founded in 1992 by by former police commissioner, Simeon Danladi Midenda to combat armed robbery and other grievous crimes but these particular set of mischief makers are known for extorting, killing, raping, and committing all sort of crimes and atrocities with impunity.
READ ALSO: IGP lists requirements for new SWAT operatives as training begins
Demonstrators have always insisted that they have no leader and they speaking with one voice despite the fact that some 'people' have tried to spin the narratives to cause a divide.
They divide you with religion, ethnicity, political parties, while they stay united, looting you dry, the only way they keep having their way is by disuniting you, impoverish you just so they can entice you with crumbs to do their bidding. WAKE UP NIGERIA #TheTimeIsNow #EndSARS

— Anonymous (@Ann0nym0z) October 19, 2020
On October 11, the IGP revealed a new police unit known as Special Weapons And Tactics (SWAT) team has been set up in place of SARS.
This idea wasn't well-received by Nigerians probably due to the fast timing and this raised eyebrows.
Five demands of the youths
People are skeptical about the new police unit due to the fact that the government in general has not given them enough reason to trust and believe them in past. Many still believe the government doesn't have the best interest of the people at heart.
The accuracy of the mantra, 'Police is your friend' remains arguable and far from truth thanks to the activities of the Nigerian police force.
Nigerians are demanding for the total dissolution of every tactical unit and a reformation of the Nigerian police force.
Protesters have also submitted their five core demands to the government and these include; immediate release of all arrested protesters, justice for the victims of police brutality and appropriate compensation for their families, setting up  an independent body to oversee investigations into police brutality and prosecution of all reports of police misconduct, psychological evaluation and retraining of SARS officers before they are redeployed to other police units, and increase police salary so that they are adequately compensated for protecting lives and property of citizens. They are not accepting less and they also intend to tackle the bad governance and corruption in the country.
SARS TO SWAT
It didn't take long before a photo of a man wearing the alleged SWAT Uniform began trending online despite the fact that people haven't wholly accepted the unit.
According to the inspector general of police, Mohammed Adamu, former police officers from SARS will be part of the new unit but will undergo psychological and medical examinations to make sure they are fit.
"The officers are expected to undergo this process as a prelude to further training and reorientation before being redeployed into mainstream policing duties," said Adamu.
Nigerians have stood their ground and have said 'no' to the creation of the new police unit.
People have also continued to agitate for an end to the tactical units.
Some Nigerians believe they are still the same set of people under the guise of a new name as they also cited how the government changed PHCN to NEPA but the issue of constant supply of light remained unresolved.
Guy it infuriates me when you say the FG said they ended Sars, we've heard this countless times, they were going to turn SARs officers to SWAT without proper orientation, that's like recycling the old fools into a new system. They didn't end Sars.

— Rastogi (@Harleche) October 22, 2020
Efforts have been made to disrupt the peaceful protests. Is Nigeria truly a democratic nation if the people are deprived of their freedom to speak and be heard?
Protesters have said that they are tired of empty promises made by the government. The  Nigeria Police Force need to sit down and come up with a well-thought-out-approach that would bring relief to the citizens of the country.
Reactions trailing the decision 
CHANGE OF NAME:

I, formerly known as Special Armed-Robbery Squad (SARS), now wish to be known and addressed as Special Weapons and Thieves (SWAT)
All former behaviours and identities remain valid. WASTED GENERATION!#EndSWAT pic.twitter.com/I00BALBUwq

— Jay Feeds (@Hard_Talk_ByJay) October 15, 2020
Remember, these guys are still out there terrorizing youths, and brutalizing young intellectuals. We say no to SARS. We say no to SWAT. Prosecute the police officers that rough-handles those young ladies.

We are not tired. #EndSARS

— Your Daddy (@ToyosiGodwin) October 17, 2020
https://twitter.com/obyezeks/status/1317153129507524612?s=21
The best thing General @MBuhari can do now is to tell us what he has done. Not what he will do.

Start by arresting and charging policemen who have killed Nigerians in the name of FSARS. That is better than rebranding from SARS to SWAT#SARSMUSTGO#EndSWAT#EndSARS#SARSMUSTEND

— Reno Omokri (@renoomokri) October 14, 2020
#SARS changed name to #SWAT only to continue hurting and taking lives of innocents.
As long as a murderous special police force exists #Anonymous will never stop striking back!

We are always with our Nigerian brothers and sisters.#EndSARS #EndSWAT #EndSARSProtest #OPNigeria pic.twitter.com/VUCqw8sFOg

— OPNigeria (@NigeriaOp) October 19, 2020
If you are able to understand the uselessness of SARS rebranding as SWAT, then you are able to identify the differences between abolition and reform, within a US context.

— pumpKin (@sheabutterfemme) October 21, 2020
Whether you end SARS or you do not end SARS it does not change anything. SWAT or whatever you choose to call it would end up committing the same atrocities. A system is just a function of processes, sub processes and steps. Simple statistics… fix the root cause

— Emmanuel (@boogie_84) October 22, 2020
We wanted SARS ended but they said no, instead they renamed them SWAT, released them to kill protesters, extort money from people, vandalizes shops and people's homes yet they are still blaming the youths. Hmmmm! Naija I hail oooooh!#EndSars

— Madona (@madona1996) October 22, 2020
Implementation of SWAT without proper reforming of police institution is too early. I G shouldn't be much faster until everything is under control. The same SARS personals are being integrated to SWAT without even confirming the cry of the youths .it's quite unfortunate in fact.

— Hillary Chukwuma (@HillaryChukwuk1) October 22, 2020
https://twitter.com/princecasmir8/status/1319280618501410819?s=21
Oriola Topsy Seun
It was too early to make such decision citizens sees it as if it's a old wine in new bottle. The IGP should have been patient enough since der is nationwide protest on this particular unit dey don't have adviser and see the result of lack of patient we all bear it together even the IGP is not safe this time around and his family inclusive. May God deliver us in this country.
Owoicho Peter Ochola
For doing that shows their foolishness and insensitivity to the plight of their people. They think we are fools! No…!! Enough is a enough
Oche Mohammed Yusuf
Very good to go.
There must not be vacuum at any security space, rather the need for more fortifications, most especially when a unit is disbanded as the case with defunct SARS, there is a swift need for replacement.
For me, I say kudos to IGP for been proactive.
However, they must take into cognisance the insensitivity of their past actions.
Austin Ayodele
The swiftness in the change of SARS to SWAT means it's just a change of name and that's senseless.
 It remains to be seen if replacing Federal Special Anti Robbery Squad, FSARS, with Special Weapon and Tactics, SWAT, will bring any positive difference.
#EndSARS: Nigerians Recount Horrible Experience With Thugs In Police Uniform
"I entered a commercial tricycle heading home. On our way, we met SARS officials. They told us to come down. We were three inside.
"They started asking me questions about where I worked and what I do to which I replied all. After much questioning, they collected my ATM and told me I have to bail myself. I asked on what grounds and as we were talking, the other of his men shot one of the guys in the tricycle.
"I was terrified and told him that I don't have cash on me. He brought out a POS, inserted my card in it and told me to type N200,000. I had to type it because I was scared of being shot", she tearfully recounts."
If you think the above narration is from a Nollywood scene, you are wrong. A young lady, Sophia, who works as a food vendor in Delta state, was not only forced to witness a young man being unlawfully shot but also part away with her hard-earned money – a total of N200,000 in her bank account.
The ongoing protests against the Special Anti Robbery Squad (SARS) which is gradually growing into a nationwide revolt is not independent of the burning desire of the majority of Nigerian youths to see a reformed Nigerian police force.
The most populous black nation in the world with more than half its population as youths is witnessing its strongest alliance against police brutality in over a decade.
Read Also: #EndSARS: Nigerian Minister Blames ASUU Strike For Civil Unrest
SARS, created in 1992 to handle crimes related to robbery, motor vehicle theft, kidnapping, cattle rustling, and crimes involving firearms have been involved in anti-citizen activities, with officers deviating from their original assignment by profiling young Nigerians, maiming, harassing, and shooting them even in the absence of concrete information to warrant their arrest.
Nigerian share their experiences
The anger and agitations for the total disbandment of the hated police unit cannot be said to be unreasonable.
During one of the several peaceful protests, a protester who took to the streets of Port Harcourt in a stereotyped appearance was later revealed to be DJ Kaka, who schooled in Ghana but lost his twin brother and car to SARS officers in Nigeria. His experience with the rogue police unit made him travel from Ghana to Port Harcourt to join the street protests.
"My name is End SARS boy, I don't love them, I schooled in Ghana, but when I came back on January 25th, SARS had the guts to kill my brother and took his car. I don't love SARS; I don't love them.
"We need the MOPOL. We need the police. And we don't need criminals like them. iPhone is not a crime. I'm from Ikwerre, all my body there is tattoo and I'm a DJ but no job. So, I'm just here to end SARS.
That's why I came all the way from Ghana to end Port Harcourt SARS. I'm crazy but I'm gentle", DJ Kaka reveals in a viral video.
Nina Nora's experience with the rogue police unit was while travelling to her village in early 2020. The bus she boarded was framed for transporting Indian hemp.
"When I was going to the village early this year, FSARS stopped us at Okwu Uratta and told all of us to come down for 'stop and search'. They didn't see anything so they allowed us to go. Another group stopped us at Bishop's Court and told us to come down for 'stop and search' again.
"One of them went straight to the gloves compartment and brought out wraps of weed. They started to threaten us with the NDLEA if we don't comply. We eventually settled them with N30,000. They had initially asked for N5,000,000. Definitely, their 'stop and search' was to plant incriminating evidence in our bus", she shares.
A quantity surveyor identified as Alexander Aghedo narrated his experience with the infamous police unit thus:
"When I was to lead a team of surveyors to Rivers State during the height of kidnapping menace along the East-West road, I visited the SARS post in Emoha LGA of the state to make arrangement for security escort.
"This was to enable me and my team carry out survey work and also collect soil samples for analysis. I paid the requested amount to their head and four SARS officers were released to provide the much-needed security for our survey work to go seamlessly. I was in for a surprise when while working at the site on the day, one of the SARS officers told me that he and his colleagues have concluded that I'm going to pay them an addition N100,000 right there and then.
"They said that what I paid in the office was for Oga. I told them I had already given their boss N200,000 and asked where he expected me to get an additional N100,000. The officer then cocked his AK47 rifle and shouted that if I couldn't transfer them money, they would kill me and say it was cultists that attacked. Afraid for my life, I had to transfer my last N40,000 to them."
A young woman who was raped by SARS officers in 2018 is championing the protests on the streets. Identified as Chiatuiro Precious Chidera, she says she does not want a repeat occurrence for her unborn male and female offspring.
"I was raped two years ago. They also extorted money from me. What was my crime: I fresh. I fresh na crime? I cannot give birth to a daughter in this country make them no go rape my daughter tomorrow. Make them no go shoot my son tomorrow. Na people pikin them they dead for Lagos state. End SARS. End police brutality", she said while holding a placard.
Protests across the nation
The ongoing protests started on Thursday, October 8, 2020 after a planned protest by notable musician Naira Marley that was put on hold following a Twitter appeal from the Minister of Youth. Naira Marley then agreed to have a Live chat via Instagram with the IGP, Mohammed Adamu on Monday, October 5 2020. He, however, issued a one-week ultimatum to the government, after which a protest would begin to bring an end to the activities of the unit.
Read Also: #EndSWAT: Sanwo-Olu Condemns Attack On Protesters In Alausa
Displeased with Naira Marley's lack of resolve, another artist Runtown who had also called for physical protests maintained that the protest would take place in Lagos on October 8 in spite of the government's warnings and appeals. Runtown was soon backed by rapper Falz, comic skit maker Mr Macaroni, female singer Tiwa Savage, OAP Toke Makinwa, and reality TV star Tacha.
On October 8, the aforementioned celebrities took to the streets of Lagos alongside other young Nigerians who had received the Twitter call to meet at the agreed venue. They all marched to the Lagos State Governor's House. Majority of the youths slept at the gate of the government house till Friday, October 9.
Other celebrities joined subsequently. The number of youths at the protest grounds increased, with Twitter as the main social media platform for communication. The #EndSARS hashtag alongside its offshoots such as #EndSWAT, #EndPoliceBrutality, and #SARSMUSTEND has attracted global attention with some global celebrities such as Trey Songz, Kanye West, and Lil Baby tweeting the hashtag and creating more awareness on the microblogging platform. Currently, Twitter CEO Jack Dorsey has acknowledged the movement with an emoji.
The protests then spread to other states of the country such as Rivers, Ogun, Osun, Oyo and the FCT, Abuja, following the disbandment of SARS by the IGP on Sunday, October 11. It was also on Sunday that the five demands were made to President Muhammadu Buhari. Currently, the protesters have not relented. This is because of the unimplemented pronouncements of disbandment and prosecution of abusive officers in the past.
The protests have also been disrupted on several occasions by alleged government security agents and hoodlums. The death of Jimoh Isiaq spurred more hatred for the SARS unit and more protests against police brutality. A prominent activist in Abuja, Aisha Yesufu, was also reportedly manhandled by the Nigerian police.
There have also been donations made by private companies, small and medium-sized enterprises and notable celebrities. The protesters have so far spoken with one voice: there is no leader among them and they will not stop until all demands are met.
SARS To SWAT, Any difference between Akara and moi moi?
After the IGP's announcement of the disbandment of SARS on October 11, a new unit was created to replace the now-defunct SARS. This unit is called SWAT (Special Weapon and Tactics Team). SWAT is to fill the gaps created owing to the dissolution of SARS.
In an official statement released by the Nigeria Police Force, no personnel of the defunct SARS will be selected to be part of the new Tactical Team. It also states that operatives of the new Tactical Team must be free of any pending disciplinary matter especially those touching on misuse of firearms and abuse of human rights.
Nigerian youths have, however, rejected the formation of a new police unit to replace the scrapped Special Anti-Robbery Squad, positing that it will not end the brutalization of citizens. Some also argued that the new name given to the unit will give the police unfettered rights to further harass and intimidate Nigerians as they refer to the new unit as an advanced version of SARS.
It remains to be seen what the protests will metamorphose into, and how the Buhari-led dictatorial government would handle the trivial issue.
Fuel Price, Electricity Tariff Hike: 'Everything Keeps Increasing But Minimum Wage Doesn't'
"That is how they normally talk. They will say they are doing it in our interest, but it's all lies. How much am I earning? Don't I have a family to take care of? This is callous of them.
"While governments of other countries are trying to make life better for their people, here, they want to choke us with increase in this and that.
"Everything keeps increasing but the minimum wage doesn't increase," Mr Hammed, a 47-year-old carpenter told Information Nigeria while reacting to the increase in fuel price and electricity tariff.
As Nigerians went about their daily activities despite the restraints caused by the Coronavirus pandemic, hoping to surmount the challenges brought about by the unexpected tragedies witnessed in the year 2020, the subsidiary of the Nigerian National Petroleum Corporation (NNPC), Pipelines and Product Marketing Company (PNPPC), announced an increase in the ex-depot price of fuel from N138.62 to N151.56 per litre.
A few hours later, the price was adjusted to N147.67. The ex-depot price is the price at which the product is sold to marketers at the depots.
This announcement comes shortly after the increase in electricity tariff that welcomed Nigerians into the month of September. Although this has been described to be in the best interest of the populace, the thought of having to pay more, despite slashed salaries and unreliable power supply has become quite difficult to bear for many Nigerians.
The assurance of Oyebode Fadipe, general manager of corporate communications at Abuja Electricity Distribution Company, that "the Service Reflective Tariff (SRT) plan is a NERC mandated tariff structure whereby an upward increment in tariffs will result in substantially longer hours of power supply, good quality voltage profile, swifter response to faults clearing and provision of pre-paid meters" is not sufficient to assuage the thought of tariff-induced burden growing in the mind of  Mr Hammed who told Information Nigeria that the government is on a wanton mission to further impoverish his ilk.
Read Also: FG Never Promised To Keep Fuel Price Permanently Low, Says Petroleum Minister
Nigerians, known for doggedness and tenacity during tough periods, could not but worry over the state of economic affairs of the country. However, the increase in fuel price was bound to happen, considering that the government had announced in March that there would be subsidy removal on petrol in order to hand over the reins of importation to private companies such that market forces would begin to determine the retail price of Premium Motor Spirit (PMS).
The PNPPC's adjustment of the ex-depot price twice within a few hours, inevitably caused varied retail prices at different filling stations across the country. Some filling stations in Lagos state sold at N161 per litre while others sold at N159 per litre. However, the uniform price of N151 soon took effect.
Gas retailer, Christopher Okafor, is not convinced by the official statement from the ruling party. He tells Information Nigeria that he is displeased with the government's move but is optimistic that better days would return.
He said: "If I tell you that I'm happy with the increase in the price of petrol, I will be the biggest liar on earth. It displeases me to my heart. Why now during COVID, when there is increase in the prices of other commodities? It is very unfair to us, but as usual, we will pull through."
A 45-year-old beauty salon owner who pleaded anonymity, told Information Nigeria that she is fed up with the electricity billing. She has just one hairdryer in her small shop but her electricity bills run into N40,000 per month.
"This is exhausting", she begins.
"But what am I to do?" She laughs for a while, probably trying not to let the burden get the better part of her.
"This is my only source of livelihood. I have to support my husband. I can't stay idle. Now there is a tariff increase, it's crazy. What can the masses do? What am I selling? That they want to finish me with such bills."
Bimbo Oyemade, 37, female, is concerned about those who have lost their jobs during this period and how they would be able to afford to purchase fuel at the new price.
"I lost my aunty during this COVID. As if that was not enough, I was also among those laid off from work as a result of the pandemic. Is it now that I'm supposed to be paying so much for fuel and electricity that I am not even enjoying?
"So, other people in my shoes would also have to face this kind of hardship. I can only imagine how parents who have school fees to pay would be coping during this period. I am still trying to survive from having to purchase food items at a costlier price. I am fed up. And what's worse is that we can't do anything about it. We are meant to believe it's in our own interest. Pathetic!"
Read Also: Electricity Tariff Increase: What Consumers Are Saying In Lagos
41-year-old Pastor Kenneth tells Information Nigeria that he concurs with the tweet posted by President Muhammadu Buhari's spokesperson, Garba Shehu. In response to the PDP's statement that the fuel price and electricity tariff increase would be unbearable for Nigerians, Shehu had tweeted thus: "Don't allow the PDP to deceive you. Amidst acute shortages, they sold petrol at N600 per litre on Easter Sunday in 2013 (See Punch published on that day)."
"We will soon realize that this is for the best. The PDP that are now acting as saints did not do any better. In fact, they wrecked what the APC are now trying to amend. How do we expect the government to keep paying subsidy at the expense of other state-owned corporations? Think about it. That is why we will have to understand the move is a smart one, for the ultimate good of everyone", he says.