Why we think there's more to Buhari's 'snatch and die' statement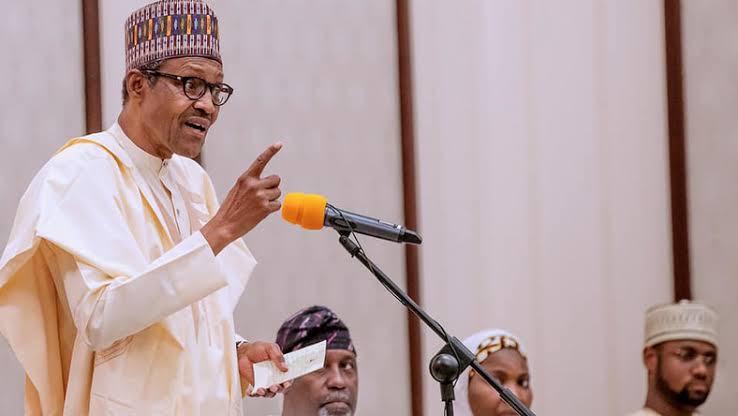 Following the 'snatch ballot boxes at your own  expense' statement by President Muhammadu Buhari on Monday, has stirred a lot of controversies.
"I really gave the military and police order to be ruthless… Anybody who thinks he has enough influence in his locality to lead a body of thugs to snatch ballot boxes or disturbs the voting system, will do so at the expense of his own life."
Although, there are some Nigerians who believe the president was right and giving such strong statement against election riggers is the way to go, there are those who don't.
To them, the statement passes the wrong message to voters.  They argued that the statement isn't only a call to jungle justice for election riggers but to instill fear and intimidation in prospective voters, who have no intention to snatch ballot boxes.
See reactions
One thing is sure, voting next Saturday is going to be more dangerous than if we'd voted last Saturday, Bubu's #SnatchAndDie speech has changed the dynamics. I'm not surprised at the president's utterances though, we know him already, it's you that's justifying it that is mad.

— The Brand Dude #EndSARS (@D0uble_ess) February 19, 2019
#ThisIsGMB
This statement is meant to scare people away but we will vote and defend our vote.this is evil and jungle justice at work.

— Sunny Maxwell Agada (@iam_maxwel) February 18, 2019
https://twitter.com/Naijadailyfeed/status/1097802973735018496
What happened to arrest and prosecution? That's how to handle acts considered criminal.
I am a voter who intends to vote & so are u, do u really want officers opening fire at polling units?
I'm sure you're beginning to see an example of how things can go wrong. #SnatchAndDie

— Bobby of House Stark (@datsbobby) February 18, 2019
Fayemi Presents Over N109 billion As Budget Estimate For 2021
Governor of Ekiti State, Kayode Fayemi has presented the proposed budget for the 2021 fiscal year in the State.
The Governor on Monday presented a budget estimate of over N109 billion for the 2021 fiscal year.
Governor Fayemi, while presenting the budget at the State House of Assembly complex yesterday in Ado-Ekiti described the 2021 budget as "Budget of Recovery and Economic Restoration."
Also Read: #EndSARS Protests Politically Motivated – Kogi Governor
The budget has a recurrent expenditure of N57, 997,898,982.62k while the capital expenditure has N51, 668,386,739.99k.
Fayemi, said the budget proposal presented contains the policy thrust, programmes, and vision of his administration for 2021, saying efforts shall be made to source the needed resources to fund the budget.
National Broadcast: PDP Slams Buhari Over 'Disappointing, Empty' Speech – PDP
The Peoples Democratic Party (PDP) has blasted President Muhammadu Buhari over his nationwide broadcast over the ongoing #EndSARS protest rocking the country.
Recall that Buhari in his speech called for an end to the protest, adding that his government had already accepted and started implementing demands of the protesters.
He, however, failed to acknowledge the shooting of protesters by soldiers of the Nigerian Army at the Lekki Toll Gate on Tuesday night.
Also Read: President Muhammadu Buhari's speech – Full text
Reacting in a statement on Thursday night by its spokesperson, Kola Ologbodinyan, the PDP said Buhari's address was depressing and failed empathy test.
The party appealed to Nigerians, particularly the youth, to remain calm and allow a return to normal life in the collective quest for peaceful co-existence in the overall interest of the nation.
PDP Asks Buhari To Stop Killing Of #EndSARS Protesters Across Nigeria
The Peoples Democratic Party (PDP) has condemned the killing of peaceful #EndSARS protesters at the Lekki Toll Gate, Lagos.
This was contained in a statement titled "EndSARS- Lekki Massacre," signed by the PDP National Publicity Secretary, Kola Ologbondiyan, late on Tuesday.
Ologbodiyan said, "The Peoples Democratic Party, condemns in very strong terms, the killing of peaceful protesters at the Lekki Toll Gate in Lagos as well as other parts of our country.
Also Read: Shehu Sani Condemns Shooting Of #EndSARS Protesters At Lekki Toll Gate
"It is shocking that security agents and, in some cases, thugs, were reportedly deployed to end the lives of promising Nigerians. This, to say the least, is saddening.
"Those responsible for the heinous murder of the innocent and harmless Nigerians must account for their nefarious acts.
"The PDP calls on President Muhammadu Buhari to immediately direct an end to these wanton killings across our nation.