PDP Fires Heavy Warning At Chief Of Army Staff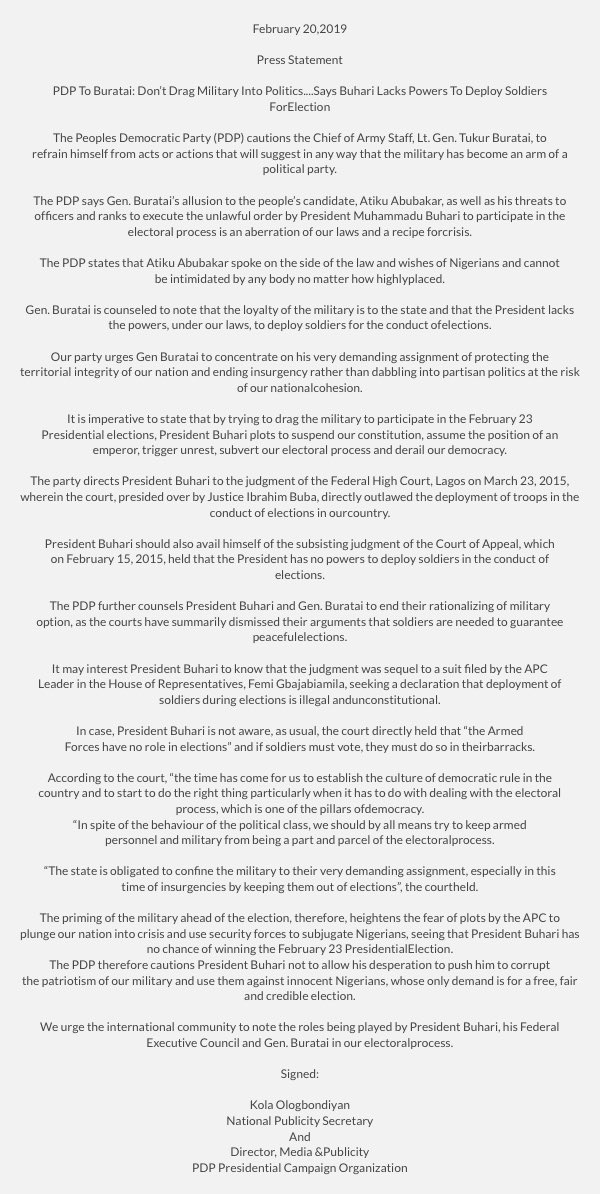 The chief of army staff, Tukur Buratai, has dismissed Peoples Democratic Party(PDP) presidential candidate's, Alhaji Atiku Abubakar, call for the military not to obey President Muhammadu Buhari's order that security operatives should deal ruthlessly with election offenders.
Buratai while fielding questions from journalists said that the army is bound to obey orders from constituted authorities alone.
However, PDP while reacting to Buratai's stand has cautioned the chief of army staff to refrain him himself from any act that would suggest that the military has now become an arm of a political party.
What PDP said:
The @OfficialPDPNig cautions the Chief of Army Staff, Lt. Gen. Tukur Buratai, to refrain himself from acts or actions that will suggest in any way that the military has become an arm of a political party. @HQNigerianArmy @UN @WhiteHouse @realDonaldTrump @POTUS @theresa_may pic.twitter.com/AZU48h307k

— Official PDP Nigeria (@OfficialPDPNig) February 20, 2019
PDP Asks Buhari To Stop Killing Of #EndSARS Protesters Across Nigeria
The Peoples Democratic Party (PDP) has condemned the killing of peaceful #EndSARS protesters at the Lekki Toll Gate, Lagos.
This was contained in a statement titled "EndSARS- Lekki Massacre," signed by the PDP National Publicity Secretary, Kola Ologbondiyan, late on Tuesday.
Ologbodiyan said, "The Peoples Democratic Party, condemns in very strong terms, the killing of peaceful protesters at the Lekki Toll Gate in Lagos as well as other parts of our country.
Also Read: Shehu Sani Condemns Shooting Of #EndSARS Protesters At Lekki Toll Gate
"It is shocking that security agents and, in some cases, thugs, were reportedly deployed to end the lives of promising Nigerians. This, to say the least, is saddening.
"Those responsible for the heinous murder of the innocent and harmless Nigerians must account for their nefarious acts.
"The PDP calls on President Muhammadu Buhari to immediately direct an end to these wanton killings across our nation.
#EndSARS: Gov Bello Warns Protesters Against Overthrowing Buhari
The Governor of Kogi State, Yahaya Bello has declared his intention to lead the #EndSARS protest against police brutality ongoing nationwide.
He stated this during an interview with Africa Independent Television AIT on Monday night.
Bello called on his fellow state governors to tack charge in their respective states so as to prevent loss of lives and properties due to attacks by hoodlums.
Also Read: Fayemi Names Members Of Judicial Panel On Human Rights Violations By Police
He, however, warned Nigerian youths to resist the temptation of using the current situation in the country to seek an undemocratic change in leadership.
The Governor warned that those interested in the presidency must wait till 2023 and go through democratic processes.
He urged the protesting youths to leave the streets and embrace dialogue.
https://twitter.com/jeffreyetuss/status/1318273749565739011?s=19
#EndSARS: Protesters Rain Curses On Me: Femi Adesina
Special Adviser to President Muhammadu Buhari on Media and Publicity, Femi Adesina has revealed that he has been receiving curses from Nigerians through phone calls and text messages over a false report that he advised his principal to shun protesters.
Adesina stated in an article he wrote titled: "An Enemy of the People' published on Thursday evening.
Also Read: #EndSARS: Nigerians Recount Their Horrible Ordeals In The Hands Of Thugs In Police Uniform
Adesina denied that he advised President Buhari for whatever reasons on the End SARS protesters, but said an online platform falsely accused him that he told Buhari to "ignore the protests and not give in to the demands of 'Twitter warriors'.
He explained that his telephone numbers were posted on social media, thereby, making people reach out to him with curses.