Muslim-Muslim ticket: How I chose my running mate – El-Rufai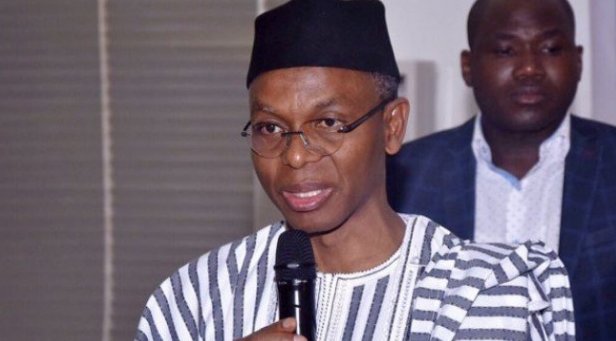 Kaduna state governor, Mallam Nasir El-Rufai suffered severe backlash over his running mate, Dr. Hadiza Balarabe, being a Muslim, like himself. Critics argued that, with the political tension developing in the state, a Muslim-Muslim ticket will only end up aggravating the situation.
However, defending his choice of running mate, said due consideration was put into the decision. The governor made this known,  while receiving the people of Sanga local government of the state who came to thank him for picking Dr. Balarabe as his running mate.
According to the Governor, the initial list contained about 32 persons and after much sorting, list was reduced to 12, then 7 and later 5. El-Rufai said the president assisted him in his final choice, who would will run with him, in the 2019 polls.
"The president then told me that since I have included women in the list I should give them priority and that was how we arrived at Dr. Balarabe.
"But the president also asked me how old she was and I said I did not know because among the documents I had her age was not there.
"The president then said he hopes Dr. Balarabe is neither a Fulani nor Hausa like me and I said I do not know her ethnic group but I told him she's related to one of his aides, Alhaji Maikano, then he said if that is the case then she's Numana."
The governor noted also that, the other part was getting the number of Dr Balarabe, whom many described as a good choice for the position.
"When I called her she said she was in Kenya, I told her I just came out of the president's office and he has affirmed that you should be my running mate in the 2019 elections and I asked her whether she accepts.
"She did not give an answer immediately but she called me back after some minutes and said she'd accepted."
Umahi Sacks Tertiary Institution's Boards Headed By Ex-Minister, Ambassador
Governor of Ebonyi State, Dave Umahi who recently defected to the All Progressives Congress, on Tuesday sacked sixteen Technical Assistants.
The development was disclosed in a statement released by Umahi through the Secretary to the State Government, Dr. Kenneth Ugbala.
He also announced the dissolution of governing boards of the state's two tertiary education institutions.
Also Read: Gov. Umahi Sacks Political Appointees From Ohaukwu LGA
The boards dissolved are the Ebonyi State University Governing Council and the Ebonyi State College of Education, Ikwo Governing Boards.
The two boards are headed by Ambassador Franklin Ogbuewu and a former Minister of State for Health, Fidelis Nwankwo.
Saraki Leads PDP's Nati youonal Reconciliation Panel
Fashola: If We Keep Our Promises, APC Will Retain Power In 2023
Babatunde Fashola
Minister of Works and Housing, Babatunde Fashola has expressed optimism that Nigerians will still vote the All Progressives Congress (APC) back to power in 2023.
Fashola, however, added that the only thing that can make Nigerians not to vote for the APC is if the party fails to fulfill its campaign promises to them.
The Minister made this remark while speaking with journalists on Monday in Abuja.
Also Read: APC Governors' Visit To Jonathan Is An Endorsement Of Our Party – PDP
He noted that even if the promises are not 100% fulfilled but the citizens see signs of commitment and progress, other parties should forget about displacing APC in 2023.
The former Lagos State Governor added that opposition parties are not doing better than the APC, hence should not expect Nigerians to vote for them come 2023.
He said: "Some governors have joined us, from where we think we could not get voters before. To retain power in 2023, certainly if we keep our promises, people will vote for us. It is that simple, that is politics," the former Lagos governor said.
"If you do what you say you will do, even if you don't do hundred percent and they see that you are making progress, they will even want you to finish what you started."