'Loyalty to party must mean something': The task is to oust Buhari, Loyalty not enough – Nigerians reply Dankwambo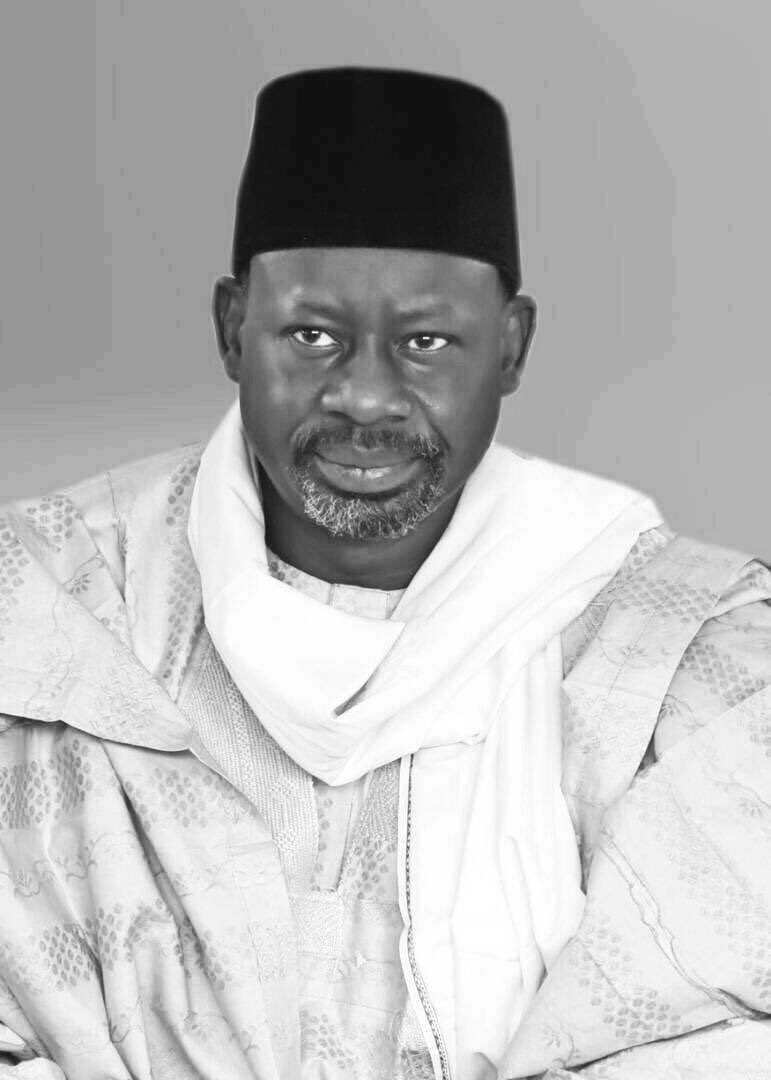 Governor Hassan Ibrahim Dankwambo of Gombe state has said he deserves to be rewarded with the Peoples Democratic Party(PDP) 2019 presidential ticket. According to Governor Dankwambo, he stayed with the party while others decamped and as such should be rewarded for his loyalty.
The Gombe state governor, who is on the list of those aspiring to clinch the PDP presidential ticket to represent the party in the forth coming presidential election said 'We have sacrificed everything for PDP. Loyalty to party must mean something.'
A lot of people have reacted to Dankwambo's assertion. While many support him, on the ground that he has been truly loyal to the party, the say the task ahead is to 'unseat' President Muhammadu Buhari. According to them, loyalty wouldn't the be the basis of choosing one to lock horn with the incumbent in the coming election.
Although, they agree that he has been loyal but somewhere of the opinion, that the party owes him nothing as he has held/holds position on  the platform of the party.
See reactions below
pdp made you accountant general of the fedration and a 2 term governor…the party owes u nothing..stop this sense of entitlement

— Uncle_Ed (@UncleEd01) September 1, 2018
Yes. But defeating Buhari is a higher priority. If loyalty will lead to a loss, it doesn't make any sense, if indeed you are a politician.

— Phil (@drphilip2010) September 1, 2018
Sir, Your party is known for impunity. Your loyalty to the party doesn't matter to Wike and Secondus. A serial defector will be given the ticket.

— inuwai336@gmail.com (@inuwai336) September 2, 2018
Oga try and understand. Much as I agree with you, the present situation calls for strategy. Winning the presidential election is the goal here and whatever strategy is required for that to happen should be the focus. Reward for loyalty can come in other diverse ways.

— Chuck D (@Cyrax60) September 1, 2018
Hahaha! In PDP, loyalty doesn't mean anything once you are big like @atiku, @bukolasaraki @RMKwankwaso which I believe you perfectly know what am talking about.

— Umar Kani Aliyu (@UmarKani) September 1, 2018
meaning something does not mean u must be president. virtually all the aspirants sacrificed something. if jonathan had not decided to run in 2015 as agreed. the story would have been different. are u more loyal then sule lamido, markaffi et al

— Aniebonam Ifeanyi (@AniebonamIfy) September 1, 2018
PDP Asks Buhari To Stop Killing Of #EndSARS Protesters Across Nigeria
The Peoples Democratic Party (PDP) has condemned the killing of peaceful #EndSARS protesters at the Lekki Toll Gate, Lagos.
This was contained in a statement titled "EndSARS- Lekki Massacre," signed by the PDP National Publicity Secretary, Kola Ologbondiyan, late on Tuesday.
Ologbodiyan said, "The Peoples Democratic Party, condemns in very strong terms, the killing of peaceful protesters at the Lekki Toll Gate in Lagos as well as other parts of our country.
Also Read: Shehu Sani Condemns Shooting Of #EndSARS Protesters At Lekki Toll Gate
"It is shocking that security agents and, in some cases, thugs, were reportedly deployed to end the lives of promising Nigerians. This, to say the least, is saddening.
"Those responsible for the heinous murder of the innocent and harmless Nigerians must account for their nefarious acts.
"The PDP calls on President Muhammadu Buhari to immediately direct an end to these wanton killings across our nation.
#EndSARS: Gov Bello Warns Protesters Against Overthrowing Buhari
The Governor of Kogi State, Yahaya Bello has declared his intention to lead the #EndSARS protest against police brutality ongoing nationwide.
He stated this during an interview with Africa Independent Television AIT on Monday night.
Bello called on his fellow state governors to tack charge in their respective states so as to prevent loss of lives and properties due to attacks by hoodlums.
Also Read: Fayemi Names Members Of Judicial Panel On Human Rights Violations By Police
He, however, warned Nigerian youths to resist the temptation of using the current situation in the country to seek an undemocratic change in leadership.
The Governor warned that those interested in the presidency must wait till 2023 and go through democratic processes.
He urged the protesting youths to leave the streets and embrace dialogue.
https://twitter.com/jeffreyetuss/status/1318273749565739011?s=19
#EndSARS: Protesters Rain Curses On Me: Femi Adesina
Special Adviser to President Muhammadu Buhari on Media and Publicity, Femi Adesina has revealed that he has been receiving curses from Nigerians through phone calls and text messages over a false report that he advised his principal to shun protesters.
Adesina stated in an article he wrote titled: "An Enemy of the People' published on Thursday evening.
Also Read: #EndSARS: Nigerians Recount Their Horrible Ordeals In The Hands Of Thugs In Police Uniform
Adesina denied that he advised President Buhari for whatever reasons on the End SARS protesters, but said an online platform falsely accused him that he told Buhari to "ignore the protests and not give in to the demands of 'Twitter warriors'.
He explained that his telephone numbers were posted on social media, thereby, making people reach out to him with curses.