I Almost Gave Up On My Football Career When My Leg Got Broken – Luke Shaw
u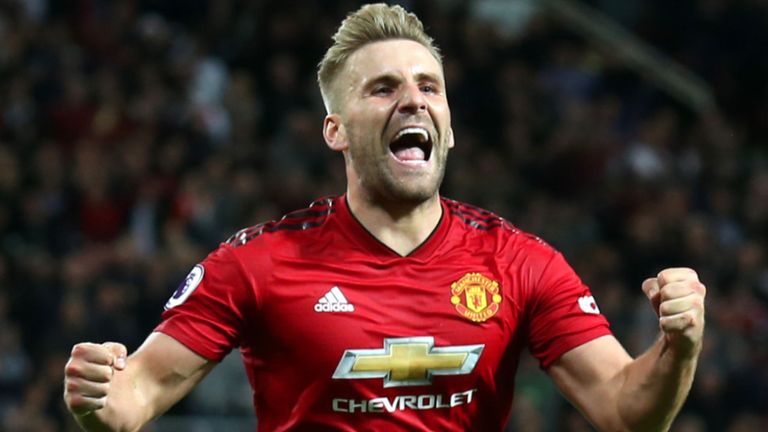 Manchester United left back, Luke Shaw, has been in superb form since the beginning of the new season and has also started four consecutive Premier league matches for the Red devils , something he had never done since 2015.
The Englishman who broke his leg during  a Champions League  match between Manchester United and PSV Eindhoven in 2015 initially struggled for match fitness upon his return from injury and was often criticized by his coach, Jose Mourinho.  *
Shaw, who is Manchester United best player for the month of August was interviewed by journalists about his broken leg while picking up the award  and he said:
 "I'd be lying if I said I didn't sometimes think about stopping playing football, but I had a lot of good friends and family around me and they helped me through it.

"I nearly lost my leg, I was actually really close to losing my leg and I never knew that until six months after when the doctor told me. Of course, if I knew that I would [still] never have stopped, even if he had told me there was a worry, I would have tried [to carry on playing football].

"I want to be playing football, I want to be playing in the biggest games possible, winning trophies – that's my motivation, and like I said I want to be known as one of the best full-backs in the world."

On being told he could have nearly lost his leg, Shaw explained: "At the time, they were thinking about flying me back (from Eindhoven) and if I'd have flown back, I would probably have lost my leg because of the blood clots and stuff in the leg.

"I've got – I don't want to talk about it too much – two scars down the side of my leg where they had to cut it open and pull them out because of how severe it was.

"But I don't really care about that anymore. I feel really strong – and my right leg is exactly as it was before my leg break."
Premier League Reveals When Fans Will Return To Stadium
The Premier League has said it is optimistic that "we will see fans back in the stadiums next season". However, the crowds are likely to return "on a phased basis".
Football will resume on June 17, following a three-month shut down because of the COVID-19 outbreak. Games will be played behind closed doors at venues yet to be decided.
In an interview with Sky Sports News, Premier League chief executive, Richard Masters, said: "No one knows when matches will move away from the behind-closed-doors model and it is right to have contingency plans in place, but there is optimism at the Premier League and at clubs that we will see fans back in the stadiums next season and it may happen on a phased basis.
Masters also disclosed that some of the remaining matches in this season's competition could be played at neutral venues. However, a decision on that will be reached by the end of next week.
English Premier League Set To Resume June 17
The English Premier League (EPL) season is set to resume on June 17, with games between Manchester City v Arsenal and Aston Villa v Sheffield United.
According to reports, the matches are the two games in hand before a complete fixture list would then be played from June 19 to 21.
Also Read: English Premier League Clubs Vote For Return To Contact Training
Recall that on Wednesday, all the 20 clubs in the league vote unanimously to begin contact training.
Germany's Bundesliga resumed earlier this month and La Liga in Spain hopes to return from June 11.
No matches have been played since Leicester's 4-0 win over Aston Villa on March 9.
Man Utd Manager, Solskjaer Hopes Ighalo Will Stay With Team
Manchester United manager Ole Gunnar Solskjaer said he hopes January signing, Odion Ighalo will stay at the club should the Premier League season restart next month.
Former Super Eagles forward, Ighalo, was signed from the Chinese side Shanghai Shenhua in January, but his short-term deal expires at the end of May.
Despite United's interest in extending Ighalo's stay, Shanghai is reportedly keen for him to return to China for the start of their season.
READ ALSO –EPL: Deal To Keep Ighalo At Man United Very Close: Agent
"The loan deal went to the end of May now, so obviously he's supposed to be going back," Solskjaer said.
"We're in dialogue and hopefully (he can stay). They've been great towards us, his club, and allow him to play for his dream club. It's been a dream for him and hopefully he can finish off what he started, maybe with a trophy or two. But at the moment nothing's been agreed yet. Their league is going to start soon so we are just waiting to see."
Ighalo scored four goals in three starts and made eight appearances in total for United.