FFK, Omokri, other Nigerians react to death of soldiers by Boko Haram fighters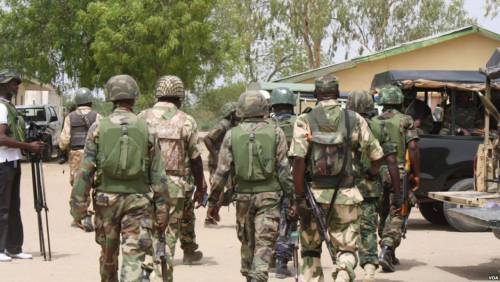 According to reports over the weekend, about 30 soldiers were killed by Boko Haram at Zari village in Guzamala Local Government Area of Borno State on Friday.
By this morning, the death toll of the soldiers was said to have risen to 42 – As hundreds of Boko Haram fighters stormed the base at Zari village, in the northern State late Thursday, in truck.  The Jihadists reportedly seized the town after a fierce battle, which ended in the death of over 40 soldiers.
However, the Nigerian Army on Sunday the reports saying, 'it is the figment of the imagination of foreign media. Army Spokesma, Brig-Gen Texas Chuwkwu said the insurgents were overpowered by the military, and they escaped with dead and the wounded.
He said;
"During the fire-fight, overwhelming volume of fire was unleashed on the insurgents from both the air and ground troops, neutralising several of them and their weapons.

"The Boko Haram took some of their corpses and fled while others escaped with bullet injuries, adding that normalcy and sanity was restored in the affected communities.

It is very unfortunate how people will just sit in the comfort of their zones and fabricate stories that don't exist, most especially the international media.

"Such false narratives, we have always believe are deliberate attempts to promote Boko Haram and their activities against the sovereignty of the country.

"That media organisation was said to have gotten their information from a security personnel and went ahead to file their report without making further inquiries.

"This is unethical and unprofessional to say the least,"
Reacting to the news, many Nigerians have expressed their sadness as well as their anger at the spate at which soldiers are being killed by insurgents. They also decried that, government has failed to honour these heroes by pretending their death never happened.
See reactions below
A few weeks ago 300 soldiers of the Nigerian Army were killed in battle by Boko Haram. They were buried in secrecy in mass graves. Yesterday another 30 were killed. Pres. Buhari has neither acknowledged their sacrifice nor admitted that they were killed. This is unacceptable.

— Femi Fani-Kayode (@realFFK) September 1, 2018
According to @vanguardngrnews the death toll from Boko Haram's attack on a military base in Borno has increased to 48, yet no condolence from the C-in-C. Instead, the @NGRPresident released a statement claiming "world leaders are queuing up to meet President Buhari" #RenosDarts

— Reno Omokri (@renoomokri) September 3, 2018
I cry for Nigeria and the Military. The spate of killings of Nigeria military officers by Boko Haram is alarming. My heartfelt sympathies to the family of the decease. may their souls Rest in Peace.

— Geebee1st (@Geebee1st) September 3, 2018
The men & women of the @HQNigerianArmy are being killed almost daily by Boko Haram…but our @NGRPresident is busy living the baby boy life with his family in China.

These people have scammed us & even the media outlets are all in the conspiracy to "unlook" this tragedy.

— Lordbishop (@realDewoye) September 3, 2018
Femi Otedola Reacts To Lekki Tollgate Shooting
Nigerian businessman, Femi Otedola has finally reacted to the shooting that took place at Lekki Tollgate, Lagos on Tuesday.
Information Nigeria recalls men dressed in military wears opened fire on unarmed #EndSARS protesters, who convened at the area.
Otedola took to his Instagram page on Sunday to commiserate with the families of those who lost their lives in the unfortunate incident.
Sharing a photo of the Nigerian flag, he wrote;
"The horrors that have been unfolding in our country have left me filled with sadness. I deeply commiserate with those who have lost their loved ones and as a father, I share the sentiment of my three daughters who protested in Lagos and London. As a young boy of 16, I participated in the 'Ali Must Go Protest' of 1978, so I understand the determination of our youths who rightly want our country to be better. We must all do our part to make Nigeria great! I will continue to do my own quota in providing for those who are most in need of support in our country in these tough times .…F.Ote💲"
Read Also: Femi Otedola Spotted Dancing With His Children (Video)
See his post below:
"Oke Wasn't Killed By Stray Bullet, He Was Stabbed By Thugs" – Brother Claims
Information Nigeria recalls a graphics designer identified as Oke, was killed hours after tweeting "Nigeria will not kill me" on Wednesday.
It was reported that the young man had passed away after he was hit by a stray bullet.
The deceased's younger brother, Daniel has come out to clear the air regarding the circumstances leading to his death.
Daniel revealed his brother was stabbed on the neck by thugs who infiltrated and ransacked their home.
In his words;
"Good day, My name is Obi-Enadhuze Daniel younger brother of the now deceased Okechukwu Obi-Enadhuze @O_Okee . I, my brother and mother lived at makinde police barracks, mafoluku, Oshodi, Lagos State.
Today at about 11 o'clock in the morning the police station at makinde was attacked by thugs who wanted to destroy the station, I my mom and brother were holed up in our house.
 The attack went on for hours before the thugs eventually breached the police and proceeded to set the station on fire, after accomplishing this they set their sights to the barracks and began the assault, they proceeded to destroy every car in the barracks, my mom's 2 cars where destroyed and set on fire and then they infiltrated our house by breaking the door they then proceeded to ransack the house and carted away with everything we own. 
 my brother on trying to get them to take everything but spare us was pushed to my mom's room and stabbed on the neck, the attacker then proceeded to attack me but missed my neck but got my chin instead, after this my mom and I carried my brothers body to the entrance of the station soliciting for help from the thugs still ravaging the barracks, we were finally able to put him in a wheelbarrow and took him to a hospital where he was rejected because "he was already dead" unfazed we moved him to another hospital where he met the same treatment this was where he bled his last drops of blood and died, his body has now been moved to a morgue
we have lost every single thing we own, as our house was completely ransacked and set on fire the only thing left is my brothers phone and at about 8 o'clock this evening the barracks was still on fire but Okechukwu has paid with the ultimate price
I and my mother are homeless with nothing now but we're safe for now, we thank everyone that has been able to reach out to us, and were able to share consoling words with us in these trying times, God bless you
While we were holed up in the house the three of us said these words together and we say it again " THREE OF US ARE HERE, THREE OF US ARE TOGETHER, THREE OF US ARE SAFE"
Let it be known that my brother @O_Okee  was NOT killed by a police bullet but died a hero protecting my mother and I.
If you see this please retweet, let the world know how Okechukwu died. He was NOT killed by a police bullet but thugs in his home!"
Read Also: RIP Oke: Barely 3hours After Tweeting "Nigeria Will Not End Me" #EndSARS Protester Dies From Gunshot
See his post below:
Youths Burn Down Sanwo-Olu's Mother's House In Lagos (VIDEO)
Lagos youths have set the family house of Governor Babajide Sanwo-Olu on fire.
This was after the Governor said that no nobody was killed during the shooting by soldiers at Lekki Toll Gate on Tuesday night.
Sanwo-Olu had debunked claims that the soldiers opened fire and killed some peaceful protesters.
Recall that men of the Nigerian Army reportedly opened fire on protesters following the declaration of 24 hours curfew by the Lagos State Governor, Babajide Sanwolu.
Bullets fired by security operatives hit some persons and at least two persons have been confirmed killed by the police and many injured
Voices in viral footage blamed the shootings on soldiers.
However, the angry youth attacked several important places such as Nigeria Port Authority, TVC News, and the family house of the Governor where his mother resides.
After Governor @jidesanwoolu said the "soldiers shot in the air to disperse the peaceful protesters." And thar their's no fatalities
Lagos youths set Governor's Mother's House on FIRE!! #PRAYFORNIGERIA#EndSARS #Lekkitollgate #LekkiGenocide #EndPoliceBrutalityinNigeraNOW pic.twitter.com/QaOvSHwXdk

— Nwachukwu John Owen (@johnowen99) October 21, 2020