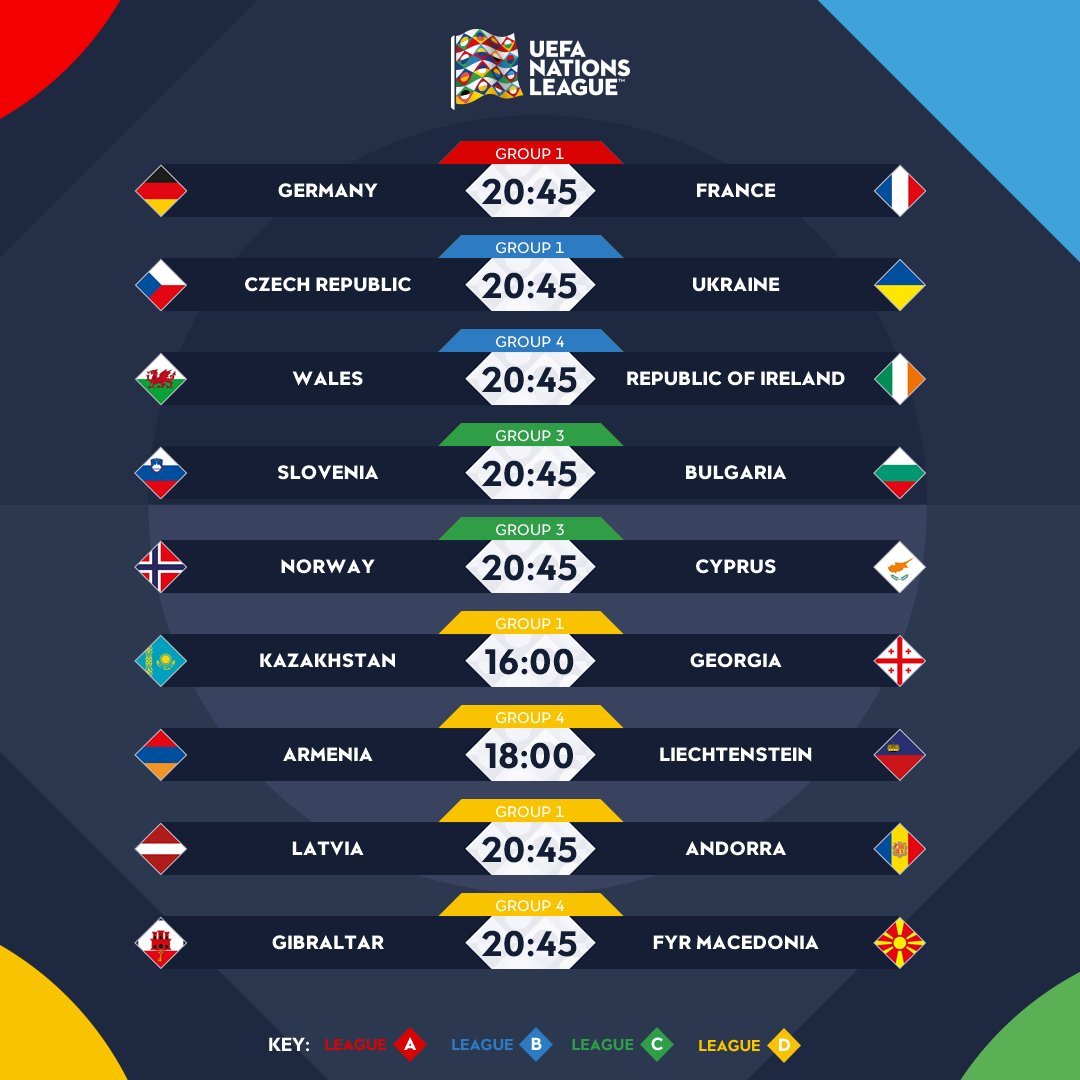 The maiden edition of the UEFA Nations League begins today with series of matches taking place across the continents.
This competition would now replace the larger part of the cumbersome friendlies being played by National teams and also offer alternate channel into the European championship starting with Euro 2020.
The participating countries would be split across four leagues with the winner of each league booking a space in the Semi finals in June 2019 then the rest would either face promotion or relegation battles.
See the groups below:
League A: 
Group 1: Germany, France, Netherlands
Group 2: Belgium, Switzerland, Iceland
Group 3: Portugal, Italy, Poland
Group 4: Spain, England, Croatia
League B: 
Group 1: Slovakia, Ukraine, Czech Republic
Group 2: Russia*, Sweden, Turkey
Group 3: Austria, Bosnia-Herzegovina, Northern Ireland
Group 4: Wales, Republic of Ireland, Denmark
*Russia initially drawn in Group 1 but moved as they cannot share a group with Ukraine
League C:
Group 1: Scotland, Albania, Israel
Group 2: Hungary, Greece, Finland, Estonia
Group 3: Slovenia, Norway*, Bulgaria, Cyprus
Group 4: Romania, Serbia, Montenegro, Lithuania
*Norway initially drawn in Group 2 but moved due to winter scheduling fears
League D:
Group 1: Georgia, Latvia, Kazakhstan, Andorra
Group 2: Belarus, Luxembourg, Moldova, San Marino
Group 3: Azerbaijan, Faroe Islands, Malta, Kosovo
Group 4: Macedonia, Armenia, Liechtenstein, Gibraltar
For the teams to qualify, the below must be satisfied:
The qualifiers will remain largely the same but, rather than best third-placed teams advancing to the play-offs, that stage will be contested by the 16 Nations League group winners. If any of them have already qualified for Euro 2020, their place will be taken by the next best-ranked team. The countries will be divided into their four leagues, each of which will include two single-legged semi-finals and a one-off final.