Mikel Obi knew of his father's kidnap hours before match against Argentina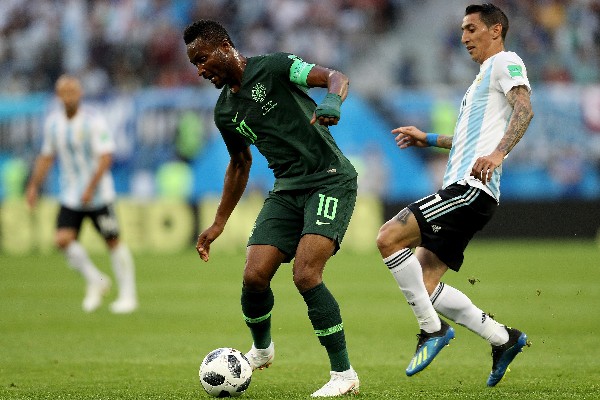 Hours before he led Nigeria into their final World Cup group phase tie against Argentina, Mikel John Obi was told that his father had been kidnapped- However was warned his father would be killed if he reported anything.  A family member called to drop the shocking news as he travelled on the team bus to the stadium in St Petersburg last Tuesday.
The Captain's father Michael Obi was abducted in south-east Nigeria as he travelled to a funeral along the Makurdi-Enugu expressway from Jos. The footballer said he didn't tell anyone at the Nigerian Football Federation because he feared they might distract him.
He told Guardian, he had to suppress the trauma, although he was emotionally distraught -he says he had to make the decision about whether he was mentally ready to play.
"I played while my father was in the hands of bandits," I had to suppress the trauma. I took a call four hours before kick-off to tell me what had happened.

"I was emotionally distraught and I had to make the decision about whether I was mentally ready to play. I was confused. I did not know what to do but, in the end, I knew that I could not let 180 million Nigerians down. I had to shut it out of my head and go and represent my country first. I could not even inform the coaches or NFF staff and only a very tight circle of my friends knew.

"I was told that they would shoot my dad instantly if I reported to the authorities or told anybody. I also did not want to discuss it with the coach [Gernot Rohr] because I did not want my issue to become a distraction to him or the rest of the team on the day of such an important game. As much as I wanted to discuss it with the coach, I could not.

"Thankfully, my father was safely released on Monday afternoon. I thank the police authorities for their rescue efforts and the support I've received from friends and family members. Unfortunately, my dad is now in hospital receiving emergency treatment as a result of the torture he received during his capture."
A late goal from Marcus Rojo saw Nigeria lose 2-1 and subsequently crashed out of the 2018 FIFA World cup in Russia.
Femi Otedola Reacts To Lekki Tollgate Shooting
Nigerian businessman, Femi Otedola has finally reacted to the shooting that took place at Lekki Tollgate, Lagos on Tuesday.
Information Nigeria recalls men dressed in military wears opened fire on unarmed #EndSARS protesters, who convened at the area.
Otedola took to his Instagram page on Sunday to commiserate with the families of those who lost their lives in the unfortunate incident.
Sharing a photo of the Nigerian flag, he wrote;
"The horrors that have been unfolding in our country have left me filled with sadness. I deeply commiserate with those who have lost their loved ones and as a father, I share the sentiment of my three daughters who protested in Lagos and London. As a young boy of 16, I participated in the 'Ali Must Go Protest' of 1978, so I understand the determination of our youths who rightly want our country to be better. We must all do our part to make Nigeria great! I will continue to do my own quota in providing for those who are most in need of support in our country in these tough times .…F.Ote💲"
Read Also: Femi Otedola Spotted Dancing With His Children (Video)
See his post below:
"Oke Wasn't Killed By Stray Bullet, He Was Stabbed By Thugs" – Brother Claims
Information Nigeria recalls a graphics designer identified as Oke, was killed hours after tweeting "Nigeria will not kill me" on Wednesday.
It was reported that the young man had passed away after he was hit by a stray bullet.
The deceased's younger brother, Daniel has come out to clear the air regarding the circumstances leading to his death.
Daniel revealed his brother was stabbed on the neck by thugs who infiltrated and ransacked their home.
In his words;
"Good day, My name is Obi-Enadhuze Daniel younger brother of the now deceased Okechukwu Obi-Enadhuze @O_Okee . I, my brother and mother lived at makinde police barracks, mafoluku, Oshodi, Lagos State.
Today at about 11 o'clock in the morning the police station at makinde was attacked by thugs who wanted to destroy the station, I my mom and brother were holed up in our house.
 The attack went on for hours before the thugs eventually breached the police and proceeded to set the station on fire, after accomplishing this they set their sights to the barracks and began the assault, they proceeded to destroy every car in the barracks, my mom's 2 cars where destroyed and set on fire and then they infiltrated our house by breaking the door they then proceeded to ransack the house and carted away with everything we own. 
 my brother on trying to get them to take everything but spare us was pushed to my mom's room and stabbed on the neck, the attacker then proceeded to attack me but missed my neck but got my chin instead, after this my mom and I carried my brothers body to the entrance of the station soliciting for help from the thugs still ravaging the barracks, we were finally able to put him in a wheelbarrow and took him to a hospital where he was rejected because "he was already dead" unfazed we moved him to another hospital where he met the same treatment this was where he bled his last drops of blood and died, his body has now been moved to a morgue
we have lost every single thing we own, as our house was completely ransacked and set on fire the only thing left is my brothers phone and at about 8 o'clock this evening the barracks was still on fire but Okechukwu has paid with the ultimate price
I and my mother are homeless with nothing now but we're safe for now, we thank everyone that has been able to reach out to us, and were able to share consoling words with us in these trying times, God bless you
While we were holed up in the house the three of us said these words together and we say it again " THREE OF US ARE HERE, THREE OF US ARE TOGETHER, THREE OF US ARE SAFE"
Let it be known that my brother @O_Okee  was NOT killed by a police bullet but died a hero protecting my mother and I.
If you see this please retweet, let the world know how Okechukwu died. He was NOT killed by a police bullet but thugs in his home!"
Read Also: RIP Oke: Barely 3hours After Tweeting "Nigeria Will Not End Me" #EndSARS Protester Dies From Gunshot
See his post below:
Youths Burn Down Sanwo-Olu's Mother's House In Lagos (VIDEO)
Lagos youths have set the family house of Governor Babajide Sanwo-Olu on fire.
This was after the Governor said that no nobody was killed during the shooting by soldiers at Lekki Toll Gate on Tuesday night.
Sanwo-Olu had debunked claims that the soldiers opened fire and killed some peaceful protesters.
Recall that men of the Nigerian Army reportedly opened fire on protesters following the declaration of 24 hours curfew by the Lagos State Governor, Babajide Sanwolu.
Bullets fired by security operatives hit some persons and at least two persons have been confirmed killed by the police and many injured
Voices in viral footage blamed the shootings on soldiers.
However, the angry youth attacked several important places such as Nigeria Port Authority, TVC News, and the family house of the Governor where his mother resides.
After Governor @jidesanwoolu said the "soldiers shot in the air to disperse the peaceful protesters." And thar their's no fatalities
Lagos youths set Governor's Mother's House on FIRE!! #PRAYFORNIGERIA#EndSARS #Lekkitollgate #LekkiGenocide #EndPoliceBrutalityinNigeraNOW pic.twitter.com/QaOvSHwXdk

— Nwachukwu John Owen (@johnowen99) October 21, 2020