Nigerians weigh-in on Bukola Saraki's involvement in Offa Bank robberies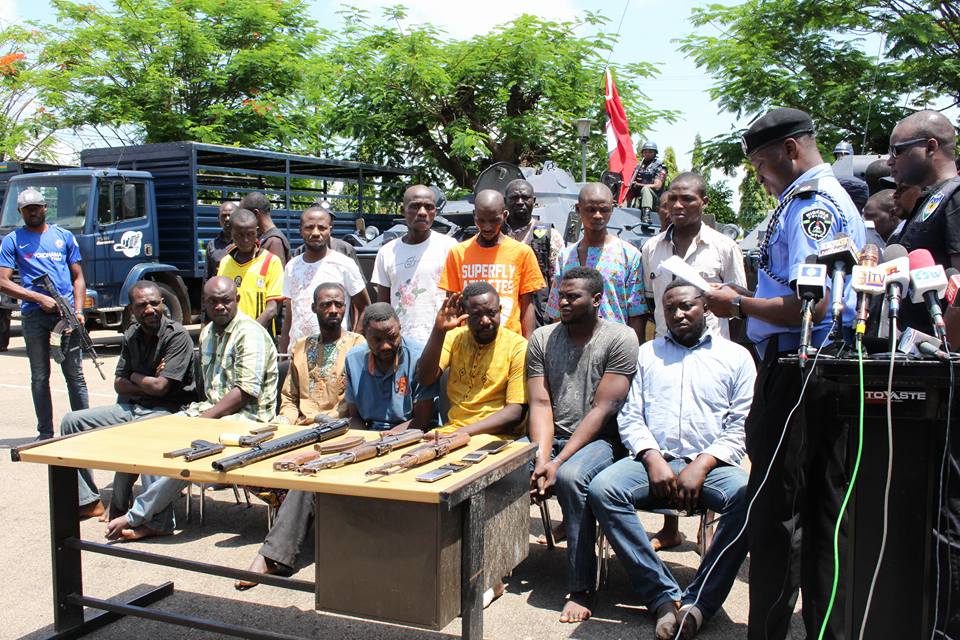 The Nigerian news wave has been agog , following news that Senate president Bukola Saraki has been linked to the deadly Offa bank robbery in April. The senate president, who has already been invited by the police to answer questions following confessions of 5 suspects of the bank robbery, has said the news is false and he has no hand in it.
UPDATE OF POLICE INVESTIGATION INTO THE OFFA BANKS ROBBERY AND GRUESOME MURDER OF MORE THAN 33 INNOCENT PERSONS. Senate President, Sen. Bukola Saraki is being invited to report to the Police to answer allegations indicting him from confessions of… https://t.co/oKBxW8X77B pic.twitter.com/9VwzpIkKJr

— Nigeria Police Force (@PoliceNG) June 3, 2018
Well, the story has stirred  a mixed reactions among many Nigerians on social media. While some are of the opinion that Mr Saraki is just a victim of police victimization, other are saying the thugs on his payroll are blackmailing him.
See reactions from some Nigerians on Twitter below:
You will have to be congenitally daft to believe someone who was born with silver spoon, became a medical doctor, SA Budget to President for about three years, Governor for eight years and now Senate President can send some criminals to go rob a bank.

— Sola (@Advsola) June 4, 2018
@bukolasaraki is not involved directly in the robbery but he's about 90% indirectly involved, how do I mean he armed and this so called GOOD BOYS are on his payroll, the operational vehicle used was also supplied by him. I'm from KWARA STATE I KNOW WHAT IM SAYING.

— Father of Alexander (@IAOLORUNDARE) June 3, 2018
They carried out the robbery with impunity having it in mind that they have oga at the top. 2013 was successful no single arrest were made.

— Saheed (@AriwaSaheed) June 3, 2018
Did I say thank God…? Yes, gradually, political thuggery is coming to an end in Nigeria. I hope this teach others a lesson.

This same political thuggery metamorphosed onto #Bokoharam

— Wale Balogun K (@walebalogunk) June 3, 2018
To think that I did a thread on Naija politicians and empowerment only yesterday! Now that Saraki & Kwara State Gov appear to have empowered wahala, let's hope their corrupt peers in Naija's leadership will stop d madness of looting funds & "empowering" their victims with trifle.

— Pius Adesanmi (@pius_adesanmi) June 3, 2018
They did not send us for the robbery but because we are their political thugs, that was why we did what we did." https://t.co/WCP0FT1vZK

— The Nation Nigeria (@TheNationNews) June 3, 2018
We have to start seeing IGP Idris as the fourth arm of government in Nigeria.
He is summoning the Senate President of the same Senate he disregarded her summon 3 times and Saraki is going to appear before him??
Something is going on somewhere!!#2019Elections

— #EndSARS #EndSARSNow #SARSMUSTEND (@Deji_OoniAbj) June 4, 2018
I really don't know whether to be sorry for Saraki & Dogara. It was before their eyes that Nnamdi Kalu disappeared & Fulani herdsmen kill people, and the senate kept mute.

When you build an environment for weeds to fester, they'll feed on your own crops someday.

— Mufasa 🦁 (@celestocalculus) June 4, 2018
https://twitter.com/MideMrPossible/status/1003565753394712576
Why would the Senate President sponsor armed robbers? To do what, make money he already has? Why are the words of robbery suspects so believable to prompt such slander, doesn't the police have the capacity to investigate this and gather evidence quietly, if there are any at all?

— Ahmad Salkida (@A_Salkida) June 4, 2018
Cult Violence: Wike Imposes Two-Week Curfew Around Okoro-Nu-Odu
Governor Nyesom Wike of Rivers State has imposed a 24-hour total curfew for two weeks on some parts of Port-Harcourt, the state capital.
The Governor made this known during a broadcast on Sunday where he noted that the curfew begins from Monday 23rd November 2020.
The statement noted that the upsurge noticed by the state government in cases of cult activities, other forms of violence, and killings is responsible for the curfew.
Also Read: Umahi Unhappy With PDP Because Atiku Picked Peter Obi – Wike
Wike in the statement declared that the entire area along and around the Okoro-nodu flyover up to a one-kilometre radius from Saint Emmanuel Anglican Church, Rumuokoro, extending to the Rumuodomaya Slaughter and Local Government daily market will be affected.
He added that no form of trading, human or vehicular movement is allowed in the affected areas until further notice.
Zamfara Governor Secures Release Of 11 Kidnapped Victims
Governor of Zamafara, Bello Matawalle has announced the release of 11 kidnapped victims.
According to reports, ten of the victims were male and a female from Bukkuyum Local Government Area.
Matawalle received the rescued kidnapped victims on Saturday night at the Government House in Gusau, the state capital.
The Commissioner of Security and Home Affairs, Abubakar Muhammed Dauran revealed that the victims were released without paying a ransom.
Also Read: Nigeria still needs SARS, Zamfara gov, Matawalle insists
He stated they were released as a result of the peace initiative and stakeholders meeting summoned by Governor Matawalle with all critical stakeholders from Bukkuyum Local Government Area on Thursday.
Governor Matawalle assured that his administration will not rest on its oars until total peace is achieved in all parts of the state.
Police Confirm Abduction Of Nasarawa APC Chairman
The Chairman of the All Progressives Congress (APC) in Nasarawa State, Philip Shekwor, has been kidnapped by unknown gunmen.
According to reports, Shekwor was abducted on Saturday night at his residence along Dunamis church, Bukan Sidi in Lafia.
Also Read: Gunmen Attack Police Station In Ibadan; Kill Police Corporal
Confirming the incident, Police Commissioner Bola Longe said the unidentified gunmen in large number stormed the residence of the APC chairman in Lafia around 11 pm and took him away to an unknown destination.
According to him, security agencies had reacted swiftly by deploying personnel to different forest locations to ensure the safe release of the APC chieftain.