Nigerians react to FG's plan to share $322 million Abacha loot to poor families in 19 states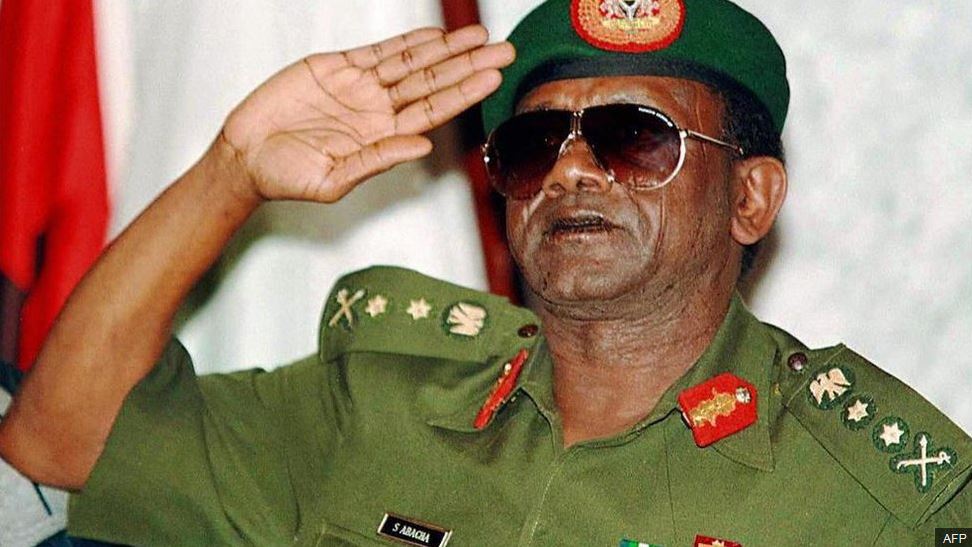 The federal government says it will pay $322 million Abacha loot as cash transfer to poor homes in July, through Conditional Cash Transfers (CCT) to 302,000 poor households in 19 states in July. This was made known at a roundtable on assets recovery organised by the Swiss Embassy on Thursday, in Abuja.
Tukur Rumar of the National Cash Transfer Office (NTCO), said the benefiting households will receive N5,000 monthly and are derived from the National Social Register (NSR) that the 19 states are already on.
The states are: Niger, Kogi, Ekiti, Osun, Oyo, Kwara, Cross River, Bauchi, Gombe, Jigawa, Benue, Taraba, Adamawa, Kano, Katsina, Kaduna, Plateau, Nasarawa, Anambra and Internally Displaced Camps (IDPs) in Borno.
Many Nigerians seem very unimpressed with decision – Some were of the opinion that it was just another avenue for people in government to re-loot the funds. While some said it was better the funds are used for developmental project rather than this.
See reactions below
How does @APCNigeria and FG want to justify the sharing of Abacha's loot. Share it as usual like the CCECC Railway scholarship that was hijacked by a few. On what grounds/criteria did they use in picking the 320,000 poor families. This Administration will never cease to amaze me

— i_am_Kaycee (@kaycee_o) June 29, 2018
https://twitter.com/EBONGIE/status/1012683499013369857
Buhari is re-looting Abacha's loot in broad day light, but of course, he's a man of integrity.

Transfer $322million to poor homes. Where's the database for the poor homes? 🤣🤣🤣

— 20.10.2020 (@VillageParrot) June 29, 2018
https://twitter.com/iamstanlee/status/1012605535550623745
When a lazy mind rules…. it's only a lazy policy will be conceived.
Imagine giving out Abacha loot to the poor?

— Churchill Idika (@ChurchillId) June 29, 2018
Suddenly the homes of ministers, past ministers, legislators, past legislators, politicians and connected people etc will turn to poor homes. #Abachaloot

— Naydoo (@Eplayn) June 29, 2018
This Abacha loot to be disbursed to "poor families" 5000 naira per month is such an obvious scam, it actually really hurts, I literally have heart pain. It's 2018, "educated" stakeholders actually had a meeting and decided to tell the populace this.

— Tinúadé (@Tinuad_e) June 29, 2018
Same politicians are about to share the Abacha Loot amongst themselves & to fund their election campaigns.

— The Lazy Chef 👨🏽‍🍳 (@TheLazyCheff) June 29, 2018
Federal Gov to Start Sharing $322m Abacha loot in July to the Poorest Families. LOL! When we are borrowing money to FUND our Budget? And Salaries Are owed? Is this how Buhari and APC plan to Bribe the Masses for 2019? well we are still on #PrayforNigeria

— Shola (@Adeshola_Konka) June 28, 2018
Amotekun: Oyo Releases List Of Successful Applicants
The Oyo State Government has released the list of successful applicants for Amotekun Corps in the State.
The process of documentation for successful applicants is billed to commence on Tuesday at the Emmanuel Alayande College of Education.
Also Read: Stop Giving Us Awards… Challenge Us So We Can Sit Up, Wike Tells Journalists
This was contained in a statement made available by the State Commandant of the Amotekun Corps, Colonel Olayinka Olayanju on Saturday.
He indicated that all candidates are to check their names at their various local government headquarters or online through the Oyo State job portal.
Zamfara Governor Commiserates With Victims Of Bandit Attack
Governor of Zamfara State, Bello Matawalle has commiserated with families of victims of the attack on citizens of Gidan Goga community by armed bandits.
The Governor assured that what is happening in terms of banditry attacks is not a security lapse but a momentary hiccup that will not be allowed to last.
Also Read: Governor Lalong says Plateau lost N75 billion to looters
He said the attack further exposed the desperation of the bandits who are experiencing heavy pressure from the offensive launched by security operatives in recent times.
"I want to assure our law obedient citizens of Zamfara State that the experience we are undergoing will not last. The bandits are experiencing our sustained pressure which they have reacted through cowardly and desperate attacks on innocent citizens," Matawalle observed.
First celebrity Limited Edition Smartphone in Sub Sahara Africa: Davido Special Edition of Infinix NOTE 8
Over the last few weeks, Infinix has floated its candy before the eyes of tech enthusiast intensifying their craving for the soon to be released device. Through several social media posts, Infinix has hinted on the imminent release of the NOTE 8 and we all can't wait for the device to hit the shelves.
Although the proposed date for the launch in its initial teaser videos and banners have passed without
any launch, we have reasons to believe that the launch will take place sometimes this month.
However, here's a more interesting news. Infinix is set to be the first smart phone company in sub Sahara Africa to launch a limited edition device with a celebrity. A special edition of the NOTE 8 will be released alongside the primal version of the NOTE 8 and the NOTE 8i. The special edition is  signed by Infinix's brand ambassador David Adeleke, popularly known as Davido.
The available stock for the special Davido-signed edition is limited. However, interested shoppers can
get one for themselves at exclusive SLOT outlets nationwide and on their website Here. Exciting free
gifts are also available if you're among the lucky few to buy this device while stocks last.
The Infinix NOTE 8 is targeted at the mid-to-high-end market segment and it comes with several
interesting features. The device on-boards a super-fast processor – the MediaTek Helio G80
processor, which supports ultra-fast gaming speed, stable graphics in-game, easy multi-tasking as
well as an all-round optimal performance.
The device also sports six cameras in total. It comes with a dual selfie camera which is cut out from its
super-wide 6.95inches screen. On the back, the NOTE 8 crams a 64MP super night shot camera for
amazing night shot photographs and other photography needs.
Many of Infinix loyalists and smartphone enthusiasts are already clearing their carts and lining up in
preparation for the launch of the Infinix NOTE 8. Now that there's a special Davido edition in sight, the
queue might just be doubling up.
To stay ahead of interested shoppers and ensure that you're one of the first to get your hands on this
special edition of the NOTE 8, follow Infinix on Facebook, Twitter, and Instagram at @Infinixnigeria.
You can also join their community of young and vibrant fans on XClub via the app on your Infinix
device or click on this link to download the app if you're a non Infinix user.