Buhari bends to pick up something from the floor for a lady but Nigerians are not impressed(Photo)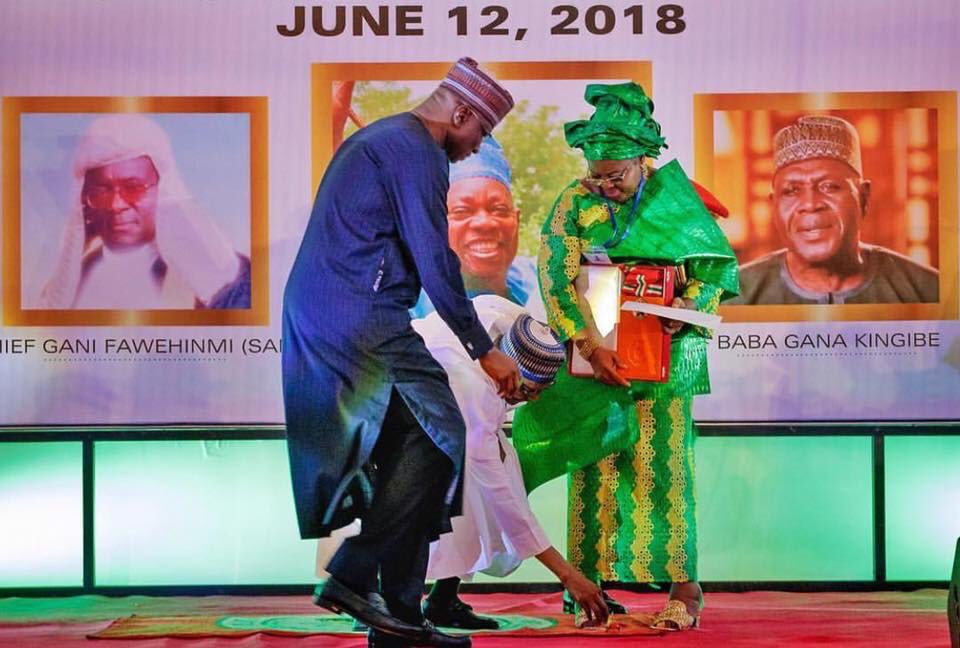 Yesterday at the Investiture of Chief Gani Fawehimi, something fell from Ganiat Fawehimi's hand to the ground and to the surprise of a lot of people, president Muhammadu Buhari,swiftly helped her to pick it up.
Members of the president's publicity unit have been everywhere on Social media, singing president Buhari's praise, how humble and gentlemanly, he is.
Today during the Investiture of Chief Gani Fawehimi, a need arose as an object fell from Mrs. Ganiat Fawehimi to the ground. Comrade Muhammadu Buhari, President of the Federal Republic of Nig, was on hand to pick it up

We have an ordinary Nigerian as a President. Not a big man. pic.twitter.com/1hsFC5rqvQ

— Lauretta Onochie (@Laurestar) June 12, 2018
And @BayoOmoboriowo captures that moment, when I was watching the program live on Channels TV earlier they didn't allow us to see it all. #June12 #Humility #Respect #PMB 👌🏾 pic.twitter.com/PfopPXBFaB

— Bashir Ahmad (@BashirAhmaad) June 12, 2018
However, many Nigerians on social media were very unimpressed with the move by some of the president's aide, saying it would make more sense for Buhari to bend and fix Nigeria.
See reactions from Nigerians
How I wish the killings in this country can be addressed with this sense of humanity.

— John Yang (@johny2961) June 12, 2018
Such humility and humanity shouldn't have El Zakzaky still locked up against court orders. Just my thought.

— Rob (@owi_rob) June 12, 2018
Honestly Twitter is becoming a big joke, what's so special if Buhari bends to pick up something for a lady? @ogundamisi if you want to remain relevant on this platform than you must stop putting up this kind of stories.
If you don't have story to post online than save your data

— LAST BORN (@AitoHamlet) June 12, 2018
This is so petty. I can't get my head around glorifying such trivial things as this.

Why is everything now turning to senseless politics.

This is why we don't move forward

— Frank (@Frank_is_OG) June 12, 2018
National Broadcast: PDP Slams Buhari Over 'Disappointing, Empty' Speech – PDP
The Peoples Democratic Party (PDP) has blasted President Muhammadu Buhari over his nationwide broadcast over the ongoing #EndSARS protest rocking the country.
Recall that Buhari in his speech called for an end to the protest, adding that his government had already accepted and started implementing demands of the protesters.
He, however, failed to acknowledge the shooting of protesters by soldiers of the Nigerian Army at the Lekki Toll Gate on Tuesday night.
Also Read: President Muhammadu Buhari's speech – Full text
Reacting in a statement on Thursday night by its spokesperson, Kola Ologbodinyan, the PDP said Buhari's address was depressing and failed empathy test.
The party appealed to Nigerians, particularly the youth, to remain calm and allow a return to normal life in the collective quest for peaceful co-existence in the overall interest of the nation.
PDP Asks Buhari To Stop Killing Of #EndSARS Protesters Across Nigeria
The Peoples Democratic Party (PDP) has condemned the killing of peaceful #EndSARS protesters at the Lekki Toll Gate, Lagos.
This was contained in a statement titled "EndSARS- Lekki Massacre," signed by the PDP National Publicity Secretary, Kola Ologbondiyan, late on Tuesday.
Ologbodiyan said, "The Peoples Democratic Party, condemns in very strong terms, the killing of peaceful protesters at the Lekki Toll Gate in Lagos as well as other parts of our country.
Also Read: Shehu Sani Condemns Shooting Of #EndSARS Protesters At Lekki Toll Gate
"It is shocking that security agents and, in some cases, thugs, were reportedly deployed to end the lives of promising Nigerians. This, to say the least, is saddening.
"Those responsible for the heinous murder of the innocent and harmless Nigerians must account for their nefarious acts.
"The PDP calls on President Muhammadu Buhari to immediately direct an end to these wanton killings across our nation.
#EndSARS: Gov Bello Warns Protesters Against Overthrowing Buhari
The Governor of Kogi State, Yahaya Bello has declared his intention to lead the #EndSARS protest against police brutality ongoing nationwide.
He stated this during an interview with Africa Independent Television AIT on Monday night.
Bello called on his fellow state governors to tack charge in their respective states so as to prevent loss of lives and properties due to attacks by hoodlums.
Also Read: Fayemi Names Members Of Judicial Panel On Human Rights Violations By Police
He, however, warned Nigerian youths to resist the temptation of using the current situation in the country to seek an undemocratic change in leadership.
The Governor warned that those interested in the presidency must wait till 2023 and go through democratic processes.
He urged the protesting youths to leave the streets and embrace dialogue.
https://twitter.com/jeffreyetuss/status/1318273749565739011?s=19