2019: Donald Duke declares intention to run, Nigerians react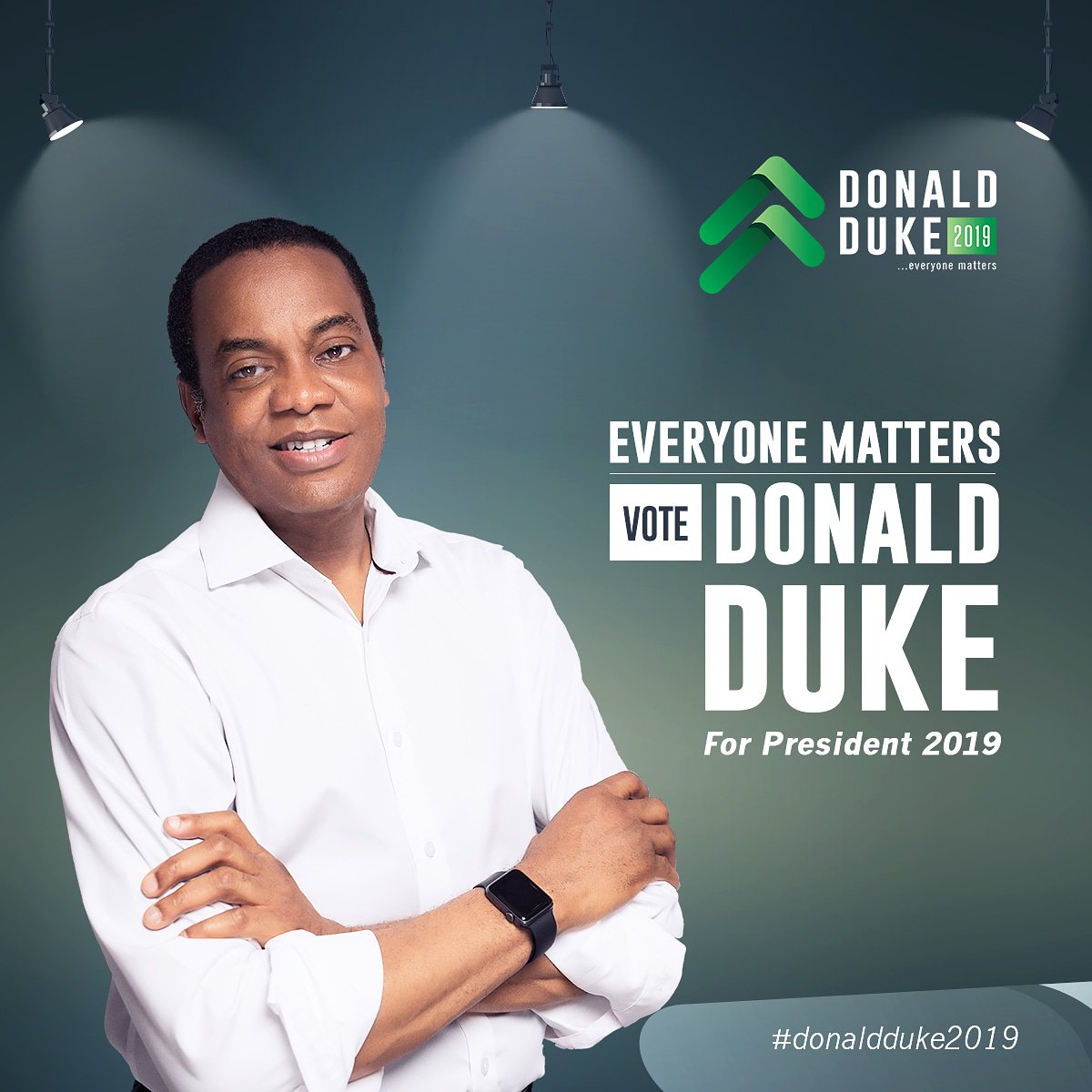 The former governor of Cross River State, Donald Duke, has formally declared his interest to run in the upcoming 2019 Presidential election.
Duke made his intentions known while speaking on the topic 'Nigeria In Clear and Present Danger', at the annual Law dinner of the University of Nigeria, Anambra State on Friday (June 8).
What he said
"I am putting myself forward for the president of the Federal Republic of Nigeria.
"I'm not going to sit back any longer and postulate. And I want each one of those young people there to be part of it. That's why I urge them to go and get their voter's card and be part of this society.
"Don't be onlookers any longer, this is not a football match where you sit in the audience and cheer and grumble. Get unto the field and take part.
"I'm not going to sit back, I'm going to take part," he asserted.
Mr Duke who is currently a member of the Peoples Democratic Party (PDP), was one of those who welcomed the Coalition For Nigeria Movement by former President Olusegun Obasanjo In February.
He was also one of those who witnessed the formal registration of the former president (Obasanjo) as a member of the group, which he had called for to save Nigeria from the myriad of challenges it is facing.
See what the reactions were like
Donald Duke is a great guy but he cannot win this 2019 election. It's only coalition that can end this Buhari. Challenge his ideas and use a strong northerner

— #EndSARS Segun | Legal 🔌 (@SegunOladejo_) June 9, 2018
https://twitter.com/oluwapower/status/1005591932800765952
I used to stan hard for Donald Duke.
But after reading Ngozi Okonjo Iweala new book and what she said about him.

I think the ship has sailed for me.

I wish Donald Duke the very best.

— Ugo (@UgoIkeakor) June 9, 2018
NO. Are you running on @OfficialPDPNig or ADC ticket where your godfather pitched tent? You threw away a golden opportunity 11 years ago when you turned down the chance to run with late Umar Yaradua. There's no federal might, rigging machinery or 'powerful OBJ' to get you there.

— #iKponmwosa 🇳🇬🇳🇬🇳🇬 (@ORONSofGOD) June 9, 2018
National Broadcast: PDP Slams Buhari Over 'Disappointing, Empty' Speech – PDP
The Peoples Democratic Party (PDP) has blasted President Muhammadu Buhari over his nationwide broadcast over the ongoing #EndSARS protest rocking the country.
Recall that Buhari in his speech called for an end to the protest, adding that his government had already accepted and started implementing demands of the protesters.
He, however, failed to acknowledge the shooting of protesters by soldiers of the Nigerian Army at the Lekki Toll Gate on Tuesday night.
Also Read: President Muhammadu Buhari's speech – Full text
Reacting in a statement on Thursday night by its spokesperson, Kola Ologbodinyan, the PDP said Buhari's address was depressing and failed empathy test.
The party appealed to Nigerians, particularly the youth, to remain calm and allow a return to normal life in the collective quest for peaceful co-existence in the overall interest of the nation.
PDP Asks Buhari To Stop Killing Of #EndSARS Protesters Across Nigeria
The Peoples Democratic Party (PDP) has condemned the killing of peaceful #EndSARS protesters at the Lekki Toll Gate, Lagos.
This was contained in a statement titled "EndSARS- Lekki Massacre," signed by the PDP National Publicity Secretary, Kola Ologbondiyan, late on Tuesday.
Ologbodiyan said, "The Peoples Democratic Party, condemns in very strong terms, the killing of peaceful protesters at the Lekki Toll Gate in Lagos as well as other parts of our country.
Also Read: Shehu Sani Condemns Shooting Of #EndSARS Protesters At Lekki Toll Gate
"It is shocking that security agents and, in some cases, thugs, were reportedly deployed to end the lives of promising Nigerians. This, to say the least, is saddening.
"Those responsible for the heinous murder of the innocent and harmless Nigerians must account for their nefarious acts.
"The PDP calls on President Muhammadu Buhari to immediately direct an end to these wanton killings across our nation.
#EndSARS: Gov Bello Warns Protesters Against Overthrowing Buhari
The Governor of Kogi State, Yahaya Bello has declared his intention to lead the #EndSARS protest against police brutality ongoing nationwide.
He stated this during an interview with Africa Independent Television AIT on Monday night.
Bello called on his fellow state governors to tack charge in their respective states so as to prevent loss of lives and properties due to attacks by hoodlums.
Also Read: Fayemi Names Members Of Judicial Panel On Human Rights Violations By Police
He, however, warned Nigerian youths to resist the temptation of using the current situation in the country to seek an undemocratic change in leadership.
The Governor warned that those interested in the presidency must wait till 2023 and go through democratic processes.
He urged the protesting youths to leave the streets and embrace dialogue.
https://twitter.com/jeffreyetuss/status/1318273749565739011?s=19