Go to Nollywood!!! Nigerians drag Melaye for 'pretending' to have difficulty walking, whereas he could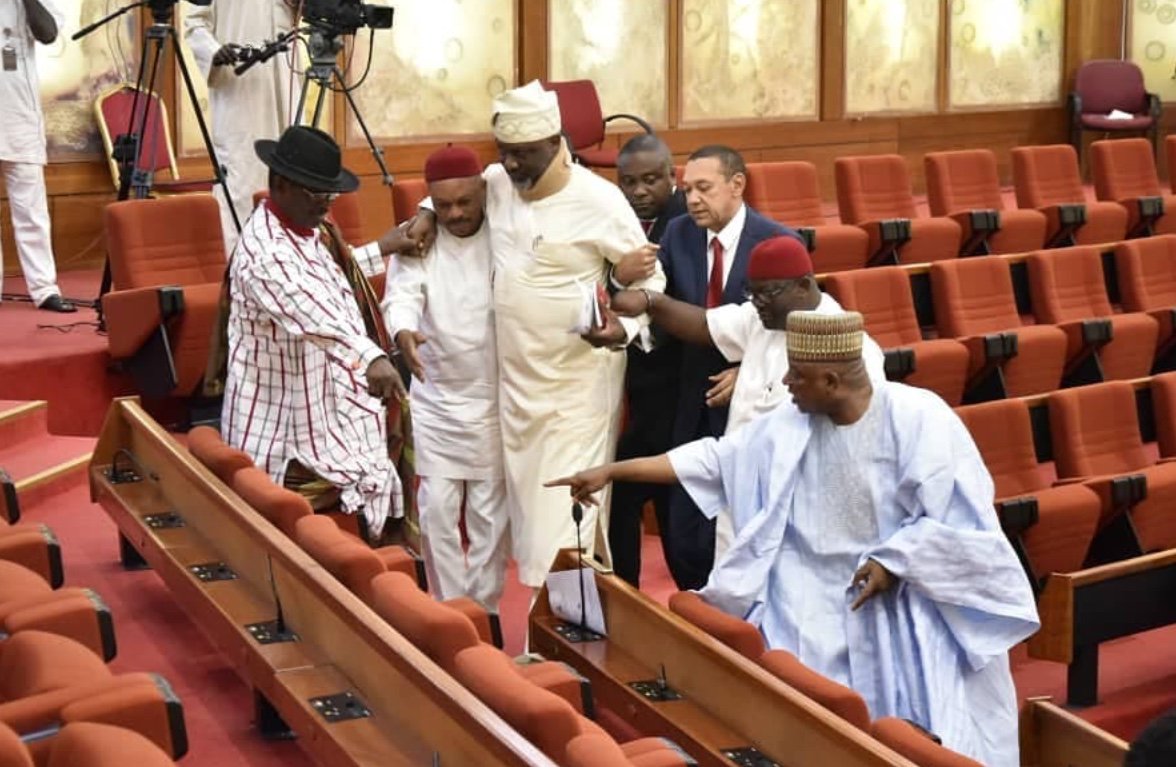 Lawmaker representing Kogi West Senatorial District, Dino Melaye, stirred a lot of reaction after he attended plenary on Wednesday in a cervical collar and supported himself with a walking stick.
However the drama came to full play, when the senator asked that  another seat be provided for him at the side of the minority PDP section of the chamber, as he was no longer comfortable on the APC side.
"I have a special request from you, Mr. President, that because of the trauma I went through and I am still going through, I want to seek your indulgence that you will call on the sergeants-at-arms to look for a comfortable seat for me on this side (pointing at the PDP roll) of the divide because I am no longer comfortable sitting here.
Melaye, again dragged attention to himself after he said he couldn't walk and needed aid during plenary(as seen in photo above) but was seen walking unaided as soon as plenary was over. See photo below;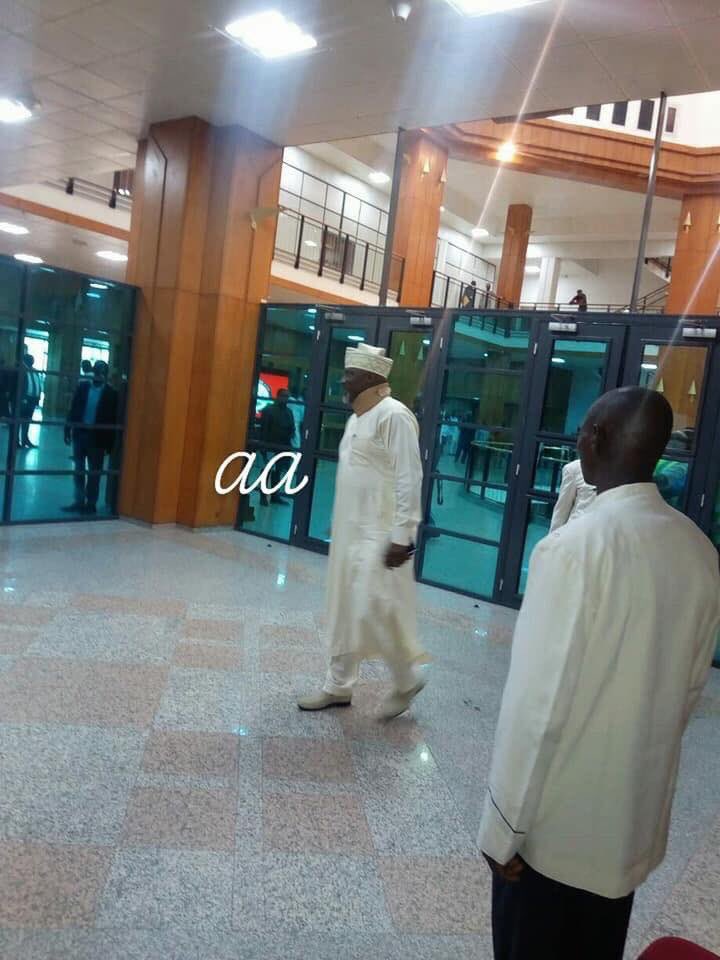 See how Nigerians reacted
I don't need Einstein to prove to me that our @HouseNGR @NGRSenate members are 65% of our problems. I mean after 8 yrs as Governor they come back to house to secure their loot then fall sick when ensnared by their acts. @OfficialPDPNig and @APCNigeria watch as nemesis soon calls.

— Ikenna Vincent (@29_Ikenna_day) May 31, 2018
So many of those called leaders are not worthy to be called leaders that why Nigeria is not moving forward many of them are too selfish.

— Adesegun Adekunle (@kunleshbaba99) May 31, 2018
Most of our senators re professional nolly wood actors they should just go n take a role in d movie industry n face their calling n leave d affairs of Nigeria alone

— Christiana Daniel (@danTiana42) May 31, 2018
I won't be surprised if he returns back as a senator or Governor because most of us in Nigeria plays too much with foolish sympathy game.

— Sunday Fortune (@sundayfortune) May 31, 2018
Online examinations and their security with navigation control
Since our movement into the online examination ecosystem, test takers go on to showcase exceptional levels of creativity when it comes to the question on how to crack an exam. In fact there has to be a visible transformation on how candidates plan to pass the exams with flying colours. In the midst of this the candidates end up resorting to some common ways where they end up cheating during an exam
Impersonation- Once you use an impersonator or a proxy opting for online exams is a common type of cheating. Students are bound to leverage with the inability of the invigilator to figure out the real exam test takers.
External help – you might end up seeking help from friends or relatives who might be sitting beside the monitor. Holding placards with answers is another way where you can cheat during an exam
Employment of digital device- smartphones, Bluetooth devices are some of the common ways by which you can cheat during the course of an online exam. They are put to use in order to surf on the web or when you receive information.
Such assertions do not indicate acts of dishonesty in any manner. A proctored exam is going to be of immense help during the course of an exam. A common perception exists that cheating in an online exam is a lot easier than a traditional exam. In a way students employ tactics so they have to succeed academically without the need to be working hard.
But with the use of technology the exams are bound to become cheat free. The question that come to the fore is how honest is the person who is appearing for an exam than merely answering the exam. With the use of proctoring technologies you are in a position to cope up with this issue and the robust features enable the institutes to secure their online examination while maintaining integrity.
Another point of consensus is how it is possible to remote monitor things on what happens in the backdrop of a computer screen. There is no need for them to be aware on what is happening in the backdrop. But still the hack list that is adopted by students works out to be expensive. Still this logic does not hold any value and cheating is a common act.
The type of cheating on the screen
Copy paste
In a conventional exam one of the common types of cheating works out to be copy paste. Be it keeping the answers already who are in document mode or the study material from a separate document, such traditional forms of cheating have gone on to evoke positive response among the students. To be glued to the screen is also a way of misleading an invigilator who does not possess any type of information while observing the screen. He is not going to flag it off as a major cause of concern.
Mirror and screen sharing
When you are sitting for an exam from a remote location, candidates often end up relying on multiple software and the use of mirror apps does appear to be one of them. By the use of this app it allows another person access to the screen of the computer and they can give you answers. Even the students are known to be using Google docs during the course of tests where they go on to review or edit the response of other person and then share it with the invigilators.
Online browsing
With the power of the internet online cheating has gone on to become a walk in the park. An individual who relies on an unfair means is going to switch from an exam, as it can be the use of  various websites , social media sites or other sources choices to locate answers of their choice. Just you have to past the answers on to the URL and figure out the best solution from where you can plagiarize the answers.
Relying on the use of external devices
For example the likes of USD or a blue tooth device is easy to conceal and it makes them difficult to detect. Even the smart devices work out to be standard devices when it comes to the question of on screen cheating. Be it before or during the course of the test the students are going to plug it for their easy use.
Another possibility is to configure your computer with blue tooth before you sit for the exam. Even directly copying from them is easy for the tech centric students. A secure exam browser might be of help in such cases. This same logic holds true for blue tooth integrated devices or smart watches that rely on providing answers to the students.
Task switching
Regularly switching from one screen to another is a method of cheating that works out to be a common task. Even you are going to use keyboards or short cut controls that enables the task of cheating and makes them accessible in an easy way.
The worst part is that students continue to exploit the vulnerabilities despite the fact that there are proper control mechanisms in place so as to curb cheating. But once you adopt technology it goes a long way in making the exams safe and secure. There is no need to regularly deploy the IT staff or the browser of the student so as to adhere to the rules. There is a need to formulate a solution that integrates with the students need during the course of an examination. In fact the need of the hour is a robust and a credible platform that goes full out to prevent the possibility of mishaps during the exams. Not only it means deployment of technology but it is going to prevent any form of violation during the exam. There are a series of software that restricts the possibility of cheating to a major
extent.
BREAKING: Sanwo-Olu Appoints Olaleye As LASPOTECH Rector
Lagos State Governor, Babajide Sanwo-Olu has appointed Dr. Oluremi Nurudeen Olaleye as the new Rector of the Lagos State Polytechnic (LASPOTECH).
The appointment was announced in a statement from the office of the Special Adviser to the Governor on Education and signed by Omolase Yejide, Head Public Affairs on Monday.
Also Read: Sanwo-Olu Moves To Scrap Pension For Ex-Lagos Governors, Deputies
Mr. Olaleye was earlier interviewed by the Institution's Governing Council and subsequently recommended.
He is to serve five years single tenure will take effect from 1st December 2020 at the expiration of the tenure of the Acting Rector, Mr. Olumide Olusola Metilelu.
WORLD TOILET DAY: HYPO TOILET CLEANER SEEKS END TO OPEN DEFECATION
With the global calculation of about 4.2 billion people living without access to safely managed sanitation and at risk of deadly diseases globally, Hypo Toilet Cleaner in celebration of the World Toilet Day, rehabilitated and maintained over 50 water closets in three high traffic areas in Lagos State while providing access to free usage to encourage the use of public toilets and reduction of open defecation 
2020 World Toilet Day in Nigeria is themed: "Sustainable Sanitation and Climate Change".
While demonstrating its contribution towards curtailing the global sanitation crisis and achieving the Sustainable Development Goal 6: "water and sanitation for all come 2030″ , Hypo took the World Toilet Day sensitisation and awareness campaign to Berger, Oshodi and Ojo area, offering free defecation service at these identified public facilities.
L-R: Mr. Opeyemi Awojobi, Sponsorship Manager- Tolaram Group,Mrs. Adenike Adebayo, maintenance manager Ojodu Berger Toilet; Mrs Sola Hassan, Director Public Health Education, Lagos State Min of Health;Mr Akintayo Akinseloyin, Brand Manager Hypo Toilet cleaner and Mrs Olasunkanmi Fasilat, Cleaner Ojodu Berger toilet during the Hypo Toilet cleaner maintenance activity to commemorate 2020 world toilet day in Lagos.
The three days long activity which was organized with the participation of the Lagos State Ministry of Health is geared towards building the trust of the public towards utilizing  public toilets while also bringing into their consciousness the need to ensure good maintenance and hygiene culture in these facilities to curtail the spread of deadly infectious diseases and encourage more usage.
Speaking at the event at Ojodu Berger Motor Park Toilet facility, the Brand Manager, Hypo Toilet Cleaner, Akintayo Akinseloyin, said with the huge infrastructural deficit in terms of toilet facilities across Nigeria, according to statistics, there is need to create massive sensitisation around behavioral change towards using safe toilets and eschewing open defecation. 
"We have decided to take over the cleaning and management of over 50 Water Closets in Berger, Arena market in Oshodi and Trade fair, all in Lagos state for the first phase of our programme. We shall be deploying our resources including the Hypo toilet cleaner to keep the toilet sparkling, attractive and germs free. By so doing, people who make use of the facilities can have a positive view of public toilet and develop a taste for using it when there is need for it."
"Today we want to build people's trust in using public toilet facilities, discouraging the act of indiscriminate defecation in open places while working towards the objective of a hygienically safe environment for all.
The Director, Health Education, Lagos State Ministry of Health, Shola Hassan commended Hypo on its partnership with the state government in discouraging the culture of open defecation, unhygienic practice among the people thereby keeping infectious diseases around the environment at bay.