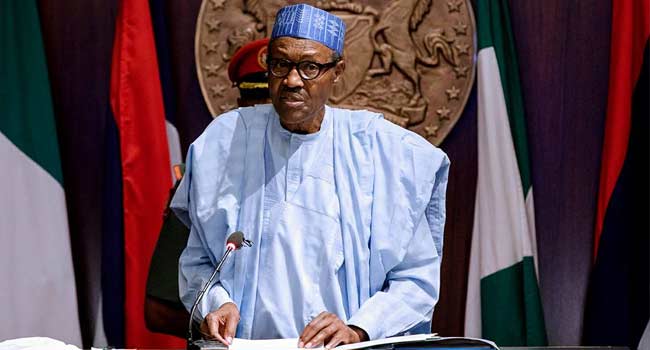 Africa Check, a non-governmental organisation, has analysed President Muhammadu Buhari's Democracy Day speech today and faulted seven main claims.
According to Africa Check,  Buhari's claim that "For the first time, 30 per cent of the budget was earmarked for capital expenditure" is incorrect. It says;
"In June 2017, Africa Check found a similar claim incorrect. In at least three years since 2008, the allocation to public projects on roads, power, railways and so forth exceeded 30 per cent.

"This was in 2008, 2010 and 2013, according to budgetary data. The infrastructure share during this time was the highest in 2008, at 37 per cent of the total budget.

"The lowest allocation in that period was 11 per cent of the budget in 2015, which was approved by Buhari's predecessor, Goodluck Jonathan."

The NGO adds that experts said that the use of these funds should be the main focus, as only a small proportion of the budgeted cash actually reaches the intended agencies.
  Secondly, Buhari's claim that, "The inflationary rate has consistently declined every month since January 2017.″ is also incorrect the NGO says.
 In January 2017, inflation stood at 18.72 per cent, according to data from the Central Bank of Nigeria. "This was the highest it has been during Buhari's term, which began in May 2015.

It notes, "At the time, inflation was recorded at nine per cent. In the 16 months prior to the new government, the rate was between 7.7 per cent and 8.7 per cent.

"In February 2017, the rate fell to 17.78 per cent. It has kept its downward trend since, reaching 15.13 per cent in January 2018 and 13.34 per cent in March 2018."
Thirdly, Buhari's claim that, "The country achieved 5,222.3 MW, representing the highest peak of power generated onto the national grid and delivered to customers in December 2017." was also deemed "Incorrect."
"We found no evidence that Nigeria recorded a power peak of above 5,000 MW in the December 2017.

"A February 2018 report by the National Bureau of Statistics and the National Electricity Regulatory Commission shows that the highest power generated in December 2017 was 105,152 MWh/h (4,381 MW), on 8 December.

"Nigeria's highest generation ever took place on 25 August, 2015 with 4,811 MWh/h produced,"

"We found no evidence that Nigeria recorded a power peak of above 5,000 MW in the December 2017.

"A February 2018 report by the National Bureau of Statistics and the National Electricity Regulatory Commission shows that the highest power generated in December 2017 was 105,152 MWh/h (4,381 MW), on 8 December.

"Nigeria's highest generation ever took place on 25 August, 2015 with 4,811 MWh/h produced,"