Dino Melaye Arrested, Nigerians React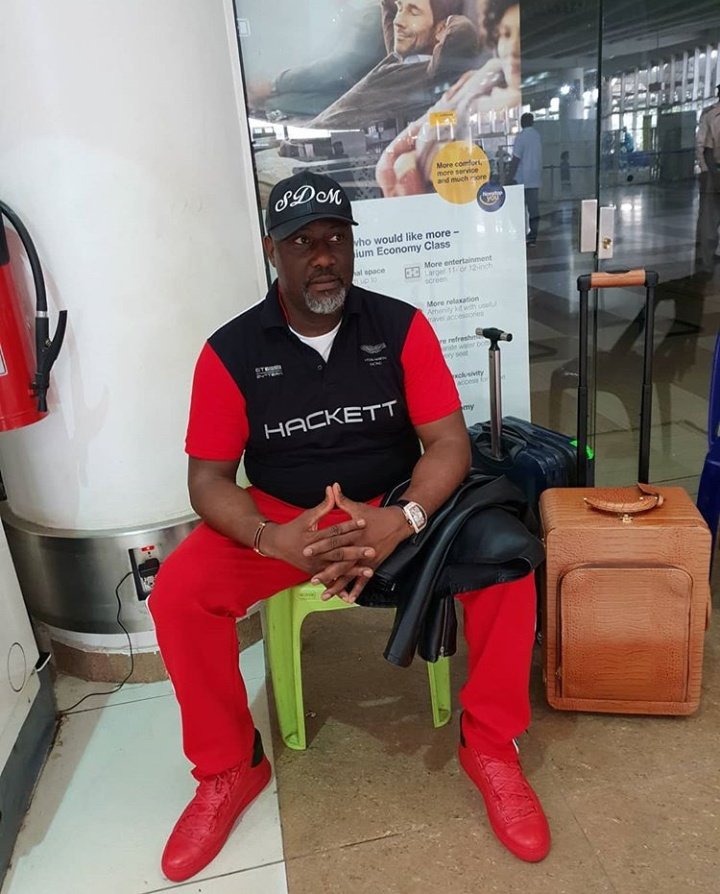 Nigerian Senator Dino Melaye was arrested at the Nnamdi Azikiwe International Airport in Abuja on Monday. Melaye was declared wanted for his alleged involvement in a murder case and provision of support for criminal elements in his home state of Kogi.
The politician confirmed the arrest on Twitter, he said; "I have just been arrested at the international wing of the Nnamdi Azikiwe airport on my way to Morocco for an official engagement sponsored by the Federal Govt after checking in"
Reacting to the arrest, many Nigerians incuding his colleagues have taken to the platform to air their views, here is what they wrote
.@dino_melaye played a major role in bringing this government into being. It will be very unfortunate if the sane government he fought for turns around to be the one fighting him. Let this be a lesson for anyone who is fighting for their 2nd term. After you are no longer useful..

— Ben Murray-Bruce (@benmurraybruce) April 23, 2018
.@dino_melaye having a "chat" with @PoliceNG over alleged arms supply in Kogi
We must commend the @NGRSenate member for not making any attempt to escape to Morocco.

— Kayode Ogundamisi (@ogundamisi) April 23, 2018
Police arrested Senator Dino Melaye when Senator Ovie Omo Agege the Mace Runner is free…..

Wetin consign me self ? Sebi oga Dino was part of President @MBuhari's change advocates..

It's good thing we are all enjoying this Change together.

— Oluyemi Fasipe 🇳🇬 (@YemieFASH) April 23, 2018
BREAKING 🚨: Senator Dino Melaye has been arrested.

"So we should do what ? We lazy Nigerian youth are busy learning new ways to be lazy, face your arrest alone"

— IG: MrCocofficial_ (@MrCocoOfficial) April 23, 2018
I Received Vision That I Would Be Governor – Oyetola
Governor of Osun State, Gboyega Oyetola has stated that God revealed to him in a dream that he would be Governor of the State long before he joined the race.
He revealed this while speaking at a service held to commemorate the second anniversary of his administration at the Redeemed Christian Church of God (RCCG), Osun Province 1 Headquarters, Osogbo, on Sunday.
Oyetola said, "I am ordinarily not one who sees visions but on two occasions, I had a strange encounter. Imagine the son of an Imam, receiving a Christian song in a dream. That was my encounter.
Also Read: You Are A Worthy Successor, Aregbesola Tells Oyetola
"All I could remember on both occasions was the last line of the song which says 'IleriOluwa ni lati se'. Outside of that dream, I had never heard the song before. When the impression was heavy on my heart, I called one of my friends to ask him about the song, and he told me the song was the Track 2 of Timi Oshikoya's album.
"He went out and got me the album and immediately I started listening to the track, my consciousness was restored and then I had an understanding of what God was saying to me. That revelation has continued to give me confidence of victory each time I am faced with legal and political battles since becoming governor."
Anyim Backed Out Of Defection Over Visit to Buhari – Umahi
Governor of Ebonyi State, Dave Umahi has claimed that a meeting with President Muhammadu Buhari stopped former Senate President, Pius Anyim and National Assembly members from the state from defecting to the All Progressives Congress (APC).
He made the claim on Sunday while speaking during an APC stakeholders' meeting at the Bouquet Lodge, Old Government House, Abakaliki, Ebonyi State.
Umahi claimed that Anyim who served as Secretary to the Government of the Federation (SGF) in the administration of former President Goodluck Jonathan, and others refused to defect because he outsmarted them all.
"They were planning to ambush me, but it is difficult to catch the air," he said.
Also Read: President Buhari receives Governor Umahi after defecting to APC (Photos)
The governor insisted that he consulted all the National Assembly members and the elders from the state about his defection from the Peoples Democratic Party (PDP), adding that they all agreed to the defection arrangement.
"Let me tell you, I'm not afraid of anybody but I respect everybody. But I have said that if God sent me, this will be the last fight in this state," he said.
Umahi added: "All these people that came together to fight me, they collect contracts, they collect monthly pay, they collect vehicles. And when they are asked to bring people that worked for us, they will bring their wives, children and relations.
"Now, they are dressing words for us. We are in chapter one, in Chapter two, I will publish all that I have done for the leaders of this state."
Sanwo-Olu Names Building After Tinubu, Warns Youths Against Vandalism
Governor Babajide Sanwo-Olu of Lagos has named the newly built Apapa-Iganmu Local Council Development Area after the National Leader of the All Progressives Congress (APC), Bola Ahmed Tinubu.
This was made known in a statement by the Chief Press Secretary to the governor, Gboyega Akosile.
Sanwo-Olu also named the Agboyi-Ketu LCDA after the late Senator of Lagos East Senatorial District, Adebayo Osinowo.
He stated that the recent #EndSARS protests brought out the need for the government to double their efforts and prioritize youth development and empowerment.
Also Read: No Pardon For Rapists, Says Sanwo-Olu
The governor however warned youths against the destruction of the government's assets built with public funds.
Sanwo-Olu disclosed that the decision of the council leadership in Agboyi-Ketu to name the edifice after Osinowo testified to the contributions he made to the development of the council.