#BBNaija: Cee.C's Sister Speaks About Her Attitude In The House
Big Brother Naija housemate Cynthia Nwadiora popularly known as Cee.C is one of the most hated housemates because of how she treats Tobi.
Cee.C has one reason or the other to trend. If she is not shouting at Tobi, she is frowning. We believe that behind the controversial personality lies someone with a pure and kind heart.
Her elder sister who has been doing a great job handling Cee.C's page is tired of the insults and hate dms all over Cee.C's inbox and she has finally decided to speak up.
According to her, she loves her sister even if she has done somethings in the house which she is not proud of, but she still loves her sister regardless. She also said that Cee.C is an ambitious person and she is sure Cee.C will scale through. See her post here:
Now I have to write as CeeC's sister.
When my sister called me on phone that she was going for BBN, I was super excited. I thought to myself, finally someone in my family will become famous. Not that I was surprised, Cee-C has always been a go getter.
But I didn't know the journey was going to be this rough. Like seriously rough!
The first week was horrible. I cried so many times. I screamed to my TV, "CeeC please come home I can't deal with this". I was scared everyday for my sister. She'll be torn apart by the hate speech when she comes home.
Someone even came to my DM once to tell me how he/she hates me, my sister, my family, my unborn children and CeeC's unborn children. No joke.
Some days I'm scared to even open any social media anymore. I even had to block a few people whose hate speech I couldn't take anymore.
Then I spoke to a few persons. I thank God for that wisdom. Everything they told me gave me the strength to carry on.
It didn't make the work easier but it sure brought in some fresh strength and thicker skin.
I'm sure if CeeC stays there long enough, my skin would look that of a crocodile cos of how thick it's getting.😂😂😂😂😂 I love my sister, even though she has done things I wouldn't approve of. But I love her still and she's the one of the sweetest persons I know… Asides my hubby of course! Lol😁😁😁😄😄😍😍😍 I'm proud of myself. If I was ever told I could take all the drama in, and not be in a Psychiatric Home I'd laugh you off like Elizabeth did to the Angel.
But here we are today. A lot of PROGRESS made. I still see more work to be done ahead.
My family, my business and even my daughter has seen less of me because I had to stand with my sister at this crucial point.
Please remind me next time to go and block the airport the next time my family member says she's going for Big Brother…lol. Just kidding jor! 😁😁😁😁 Have a great day!
#bbnaija
@bigbronaija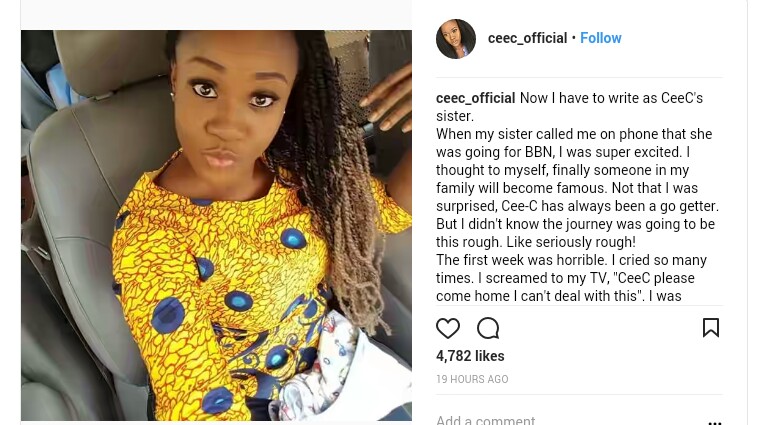 source: 36ng
Noble Igwe, AY Makun Clash On Twitter Over Comedians Who Invite Politicians To Their Shows
Popular figures, Noble Igwe and AY Makun, have clashed on Twitter owing to the former's tweet that comedians allow politicians to come to their shows and pay for expensive tables.
AY Makun, who is a stand-up comedian, then took it upon himself to defend himself and his colleagues. He replied Noble Igwe thus:
"A comedian was with d people at Lekki Tollgate while u were busy tweeting last night. Today is not d day to discuss a baseless tweet. I will still love you like a brother & educate you later on the principles of buying and selling. Gucci never asked hushpuppi his sources of income"
Read Also: 'I Am Not Beefing BBNaija Housemates' – AY Makun
Noble Igwe also replied. He wrote:
"You know what's funny? Same way I twitted about bloggers, musicians and comedians, the same thing I said about all of us taking power into our hands but you decided to tweet these things and still say 'I still love you' Carry on!"
See their exchange below:
'Zero Accountability, Pure Wickedness' – Banky W Lambasts Lagos Govt
Nigerian entertainer, Bankole Wellington, better known as Banky W, has accused the government of zero accountability and pure wickedness.
Saddened by the recent turn of events regarding the End SARS protests, the R&B singer cum actor took to his Twitter page to ask what the government is doing to fish out the perpetrators of the Lekki Massacre that took place at the Tollgate on Tuesday.
Read Also: 'Our Hearts Are Broken But Our Spirits Will Never Die' – Banky W Condemns Lekki Massacre
In his words:
"Who authorized soldiers to shoot at peaceful protesters? Why were the lights turned off shortly before they came? Why are so many warehouses being discovered filled with food meant for feeding our poor? Why were looters allowed to destroy our businesses? Zero accountability. Just wickedness."
See his tweet below:
Actor Deyemi Okanlawon Reveals Next Strategy For #EndSARS Protests
Nollywood actor, Deyemi Okanlawon, has shared the better strategy for the ongoing End SARS protests. The actor took to his Twitter page to advise that it is better to challenge the government of the day without endangering the lives of people.
Information Nigeria recalls key players at the beginning of the protests identified as Feminist Coalition recently released a statement in which they state that they are no longer receiving funds for the protest.
Read Also: "Submission is not exclusive to one gender"- Actor Deyemi Okanlawon
The movie star now thinks it is necessary to avoid going out to the streets where there could be danger. In his words:
"What can online protesting achieve? The protests worked because we were able to hit the govt where it hurts – their pocket. What we shld be looking for are other ways to hit their pocket without exposing any more of us to the danger of an irresponsible, murderous govt #EndSARS"
See his tweet below: