TwitterNG reacts to Pastor Ashimolowo's comments on OAP Freeze
Pastor Matthew Ashimolowo is the most recent pastor to condemn OAP Freeze's comments on tithing.
In a sermon titled "The Power of the Tithe," Ashimolowo described Freeze as "yoyo" who "beats his wife" and "sleeps with women."
"He should shut up and let's speak," Pastor Ashimolowo said.
Twitter users have reacted to the pastor's comments, some saying they are ad hominem attacks, and do not contribute to the conversation, while others fail to see anything wrong.
See what Twitter users have to say below, together with the full sermon.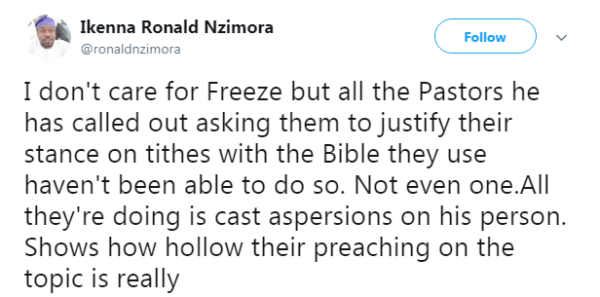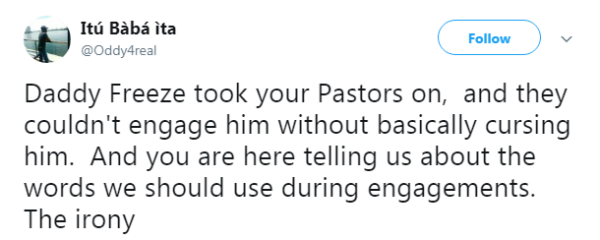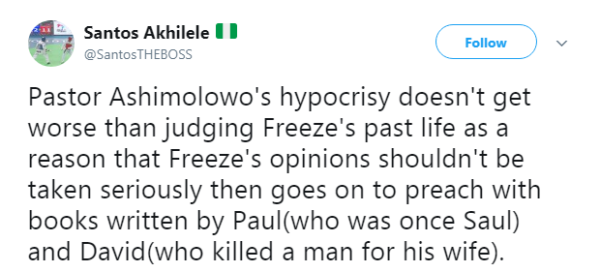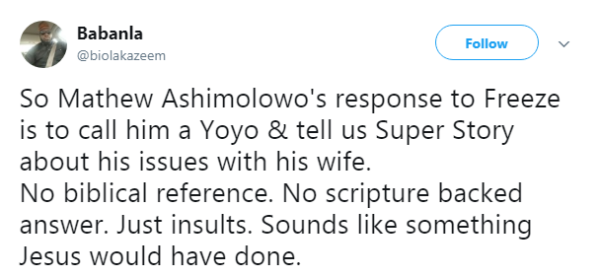 Watch the sermon below:
Source – BellaNaija
Donald Duke: Security Operatives Selling Weapons To Boko Haram
Former Governor of Cross River State, Donald Duke, has claimed that the Boko Haram terrorist group gets most of its weapons from security operatives.
Speaking on Channels Television, the former governor called on the President Muhammadu Buhari government to investigate the nation's security forces and flush out the bag eggs.
He said: "Boko Haram insurgents who have been responsible for most heinous crimes, get their weapons from the security operatives.
Also Read: Boko Haram: 'Be Hurt In Your Pursuit Of Justice For The Dead', Ezekwesili Tells Buhari
"Most of the weapons used by Boko Haram come from our armoury, we will need to look into that. Why are we selling weapons to the enemy?"
Speaking further, Donald Duke pointed out that the Nigerian military and police in the northeast must be adequately motivated to achieve results.
He also called for the use of intelligence to combat insecurity such as kidnapping across the country.
Insecurity: Restructuring Not As Critical As Hunger And Poverty – Amaechi
Minister of Transportation, Rotimi Amaechi has stated that the administration of President Muhammadu Buhari is more concerned with getting rid of hunger and poverty than restructuring.
Amaechi a former Rivers State governor stated this on Sunday while speaking on Channels Television's Sunday Politics.
The minister, however, admitted that there is nothing wrong with calls for the restructuring of the country.
Also Read: Amaechi Apologises For Abuja-Kaduna Train Breakdown
Amaechi said: "If to you what is important is restructuring, I don't see anything wrong with restructuring. But I'm saying it is not the most critical problem we have.
"The most critical problem we have is hunger and poverty, which is breeding insecurity."
Insecurity: Buhari Can't Protect Nigeria – Moghalu
A former deputy governor of the Central Bank of Nigeria, Professor Kingsley Moghalu has expressed that President Muhammadu Buhari is not capable of protecting Nigerians or confronting the security challenges facing the nation.
The former presidential candidate made this remark in his reaction to the killing of 43 rice farmers in Borno State by Boko Haram insurgents on Saturday.
Also Read: Boko Haram: 'Be Hurt In Your Pursuit Of Justice For The Dead', Ezekwesili Tells Buhari
He described the incident as a national tragedy which is a pointer to the fact that Nigeria is becoming a failed state under the leadership of President Buhari.
He also lambasted the government and security agencies, accusing them of intimidating and arresting peaceful #EndSARS protesters demanding better governance but unable to do anything to insurgents terrorizing the entire country.
He wrote:
The barbaric beheading of 43 Nigerians in Zabarmari village in Borno State by Boko Haram is a national outrage and tragedy. It's increasingly clear that @NigeriaGov is unable to protect the lives of Nigerians. What does that mean? Our country is becoming a failed state. pic.twitter.com/0fl6kAdu4q

— Kingsley Moghalu (@MoghaluKingsley) November 29, 2020
"financiers of terrorism" while the real terrorists are having a field day with Nigerian lives and no one apparently can stop them and their real financiers. It is a national shame!

— Kingsley Moghalu (@MoghaluKingsley) November 29, 2020