Getting a Dog May Save Your Life, Especially If You're Single
Having a dog can bring a lot of love into your life. It could also make it last a little longer.
A group of academics from Uppsala University in Sweden analyzed the health records of 3.4 million people in that northern European country, where databases contain detailed information on everyone's hospitalizations, medical history and even whether they own a dog. Such detailed records made it relatively easy to suss out the impact of having a canine companion.
The results were heartwarming.
People in possession of a pooch were less likely to have cardiovascular disease or die from any cause during the 12 years covered by the research, according to the study published in Scientific Reports. The impact was greatest for single people, said Mwenya Mubanga, an author of the paper from the university's Department of Medical Sciences and the Science for Life Laboratory.
"Dog ownership was especially prominent as a protective factor in persons living alone, which is a group reported previously to be at higher risk of cardiovascular disease and death," Mubanga said. "Perhaps a dog may stand in as an important family member in the single households."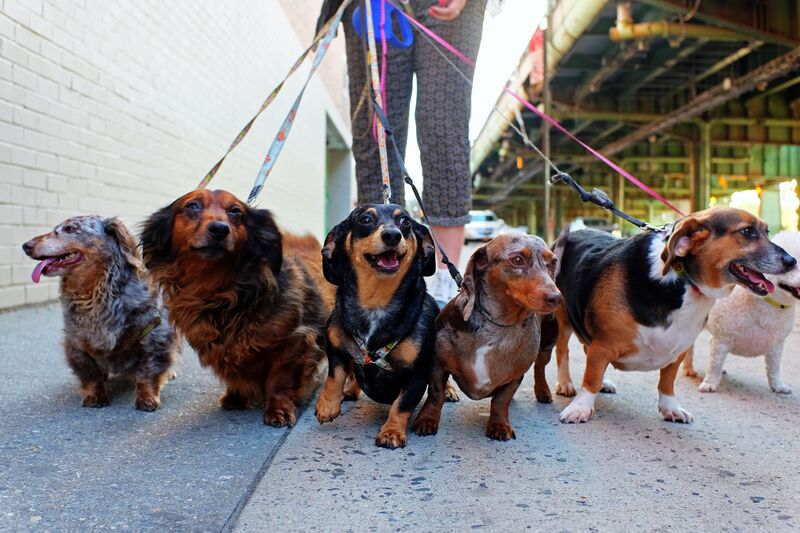 The researchers examined seven national databases in Sweden, including two that track dog ownership, focusing on people aged 40 to 80. Single dog-owning adults who lived alone were 11 percent less likely to subsequently develop heart disease and 33 percent less likely to die than non-dog owners, the analysis found. Hunting dogs seemed to offer the most protection when it came to staying alive.
It's not clear exactly how the dogs helped avert heart disease, or whether getting one directly led to better health, cautioned Tove Fall, the senior author of the paper and associate professor in epidemiology at Uppsala University. It's possible that dog owners are healthier and more active before they get a canine companion, she said.
"We know that dog owners, in general, have a higher level of physical activity, which could be one explanation to the observed results," Fall said. "Other explanations include an increased well-being and social contacts or effects of the dog on the bacterial microbiome in the owner."
Either way, maybe an extra treat for that doting Lab waiting for you at home is in order.
---
Bloomberg
'I Tested Positive To HIV After Gang Raped By 3 Men – Chef Ayomide
Nigerian chef, Ayomide Idowu, who is also a male rape survivor, has taken to his Instagram page to tell his story.
The openly gay young man recalled how he was allegedly gang raped by 3 hoodlums at the age of 19 because of his sexuality and how he eventually contracted HIV.
Ayomide revealed his life never remained the same as he was also arrested and victimized by the police.
In his words;
"I could remember last 5years ago
What I pass through from 3 hoodlums
I was thoroughly beaten and gang-raped
All because I'm Gay…they took advantage of me
I was 19years old boy then, I suffered humiliation
Arbitrary arrest from police,inhuman degrading treatment,I lost my precious Home at the age of 19years..no parents no family…it really hurts to be an orphan….after I lost my virginity from the raped….having unprotected sex from those hoodlums I WAS TESTED POSITIVE….being positive my mood changed…I started my medication and think less…I stay away from smoking and alcohol…I eat Good fruits and vegetables…thanks to God I'm a testifier now
I'm undetectable my CD4 850 viral load 10
It really worth testimony 🙏🤦im looking healthy and stunning…being HIV positive is not the end of life…it reveals the other side of you…my aims of sharing my life threatening story as an orphan,so that people can learn from this…. 5years living positively"

Read Also: GAYS are one of the most influential & successful people in Nigeria — Chef Ayomide
See his post below:
Actress Osas Ighodaro Celebrates Her 30th Birthday With Emotional Post
Nigerian actress, Osas Ighodaro penned an emotional note via Instagram as she clocked 30-years-old on Monday.
To mark her birthday, the single mother of one posted a monochrome photo of herself as she wished for people to continue praying for those who lost their lives during these turbulent period.
Ighodaro wrote;
"Thank God for another year. Happy Birthday to me. If you know me, you know I absolutely love birthdays but this year it certainly hits different. I'm overwhelming grateful for life and thankful to God to be able to see another birthday bc unfortunately many haven't and won't have that opportunity.
I am hopeful for better days for myself, those that I love and hold dear and most certainly for my country Nigeria. I pray for unity, peace, harmony and togetherness. We all deserve it.
My birthday wish is to please continue to pray for those innocent lives lost. Please remain hopeful and focused because I truly believe better days are soon ahead by God's grace.
Peace, Love and Blessings."
See her post below:
Exotic Resorts May Be the Best Bet for a Holiday
An exotic vacation usually means exploring a distant foreign country, whilst resorts are places
to go for rest, sport, or which offers a particular speciality, with many resorts being part of a
popular tourist destination or on or near a beach. If you are planning a vacation to an exotic
resort it can be a once-in-a-lifetime vacation to a far-flung destination or a luxurious place to
stay closer to home where you can enjoy some pampering.
Why stay at an exotic resort
Exotic resorts often offer all-inclusive vacation deals, along with other options that leave you
to plan your stay more precisely to your own wishes. These resorts offer excellent customer
service, superb accommodation and facilities and are usually to be found in beautiful settings.
Here are some of the best resorts from around the world for you to consider:
Four Seasons Resort, Seychelles
This famous resort has made many feel they have entered Paradise. The gentle ocean breeze
floats up the granite hillside and into your tree-house villa tucked away from the other guests
staying at the resort. This is perfect for encouraging you to relax, either by your private pool
or in the clear blue waters of Petite Anse Bay. Perfect for a romantic stay, there is a Spa for
pampering and the chance for a sunset meal on a deserted beach.
Some enjoy simply sitting on their balcony, gazing at the ocean between reading their book,
sketching or checking out international bookmakers and betting sites for the chance of a
flutter. If you want another type of adrenaline kick, check out the resorts excellent kayaking
and snorkelling facilities, which are recommended by nearly all who try it.
Anantara Resort, Hua Hin, Thailand
The ultimate tropical getaway, the Anantara Resort is an award-winning site modelled on a
traditional Thai village and is just three hours drive south of Bangkok. The location is where
Thai royalty and aristocrats have been holidaying for almost one-hundred years. Today, you
can visit historical attractions alongside theme parks and shops as well as vineyards and golf
courses.
The resort is set among 14 acres of lush tropical grounds with lotus-filled lagoons and
meandering pathways through exotic foliage, with many rooms overlooking the shoreline.
Each day, chefs prepare freshly caught local seafood alongside Thai specialities. The resort
also has an award-winning spa located within a lagoon-inspired oasis offering you the perfect
opportunity to relax.
Kurumba, Maldives
Kurumba is a well-established resort that opened almost 50 years ago and continues to offer
superb hospitality and contemporary facilities. There are seven speciality restaurants offering
cuisine from Italy to the Middle East as well as Thila, a restaurant which extends out over the
water which offers gourmet breakfasts and seafood dinners.
You can go snorkelling over the nearby reef full of colourful marine life or sign up to a dive
package as part of your stay, or just enjoy a private pool when staying at one of the spacious
villages. There are also deluxe beachfront bungalows offering direct beach access and views
of the crystal-clear waters.