There is competition amongst Mavin Records artistes – Reekado Banks reveals (Read details)
Mavin singer, Reekado Banks, is undoubtedly one of the good artistes Nigeria can boast, a thing we are certain he knows.
Speaking with Sunday Scoop, the Ladies And Gentlemen crooner, opened up on how his family handled his decision to go into music fully, is Mavin family and of course competition amongst them all.
On his parents being told about his decision to pursue music, Reekado said:-
"My parents have always been supportive and they want the best for their children. When I initially told my mother about my intention, she had no problem with it.
She then told my dad and he was okay with it too but said he wanted to be sure that I wouldn't leave Jesus Christ."
On gaining fame and its effect:-
"I am still the same person I used to be. I do every other thing I want but I no longer have the liberty of walking on the street or going to some certain places I would have loved to go.
I have always been the indoor type and even when I was in the University of Lagos, I never went to clubs or things like that."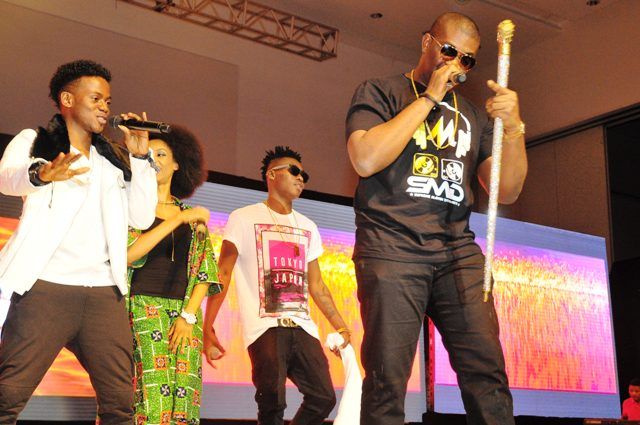 On the Mavin family:-
"The only thing I can say we have among us is healthy competition. We encourage ourselves to do well and we're one big happy family. We give ourselves good pressure, like when one person releases a good song, the others are motivated to do the same, or even do better.
We also advise ourselves on how to do better and we constantly look out for one another's progress."
Desmond Elliot Breaks Down In Tears On Live TV Following Backlash (Video)
A video trending on social media captures the moment Nigerian grassroot politician, Desmond Elliot got overwhelmed by emotions during an interview with Arise TV.
In the video, the actor turned lawmaker broke down in tears, following the backlash he  received from Nigerians for pushing for the regulation of social media.
Information Nigeria recalls that the former actor called for social media regulation during a plenary session held by the Lagos State House of Assembly.
Elliot had condemned the use of social media by influencers, celebrities and the youth.
Nigerians wasted no time in dragging the politician over his controversial speech where he also termed youths as "children".
The actor finally succumbed as he tendered a well-deserved apology via Twitter hours after the video went viral.
Read Also: Video Of Desmond Elliot Calling For Social Media Regulation Hits The Internet
Watch the videos below:
Crying contd. 😭😭😭
This one has sha admitted that DJ Switch's Live is real, despite Army saying it's photoshopped.#endsars #EndBadGovernanceinNIGERIA pic.twitter.com/wdKYblUbLI

— – melody (@Jachimma_x) October 29, 2020
Shout out to Amaka Udeh it Arise TV for pressing the neck of our Honourable Minister of Love Sharing.

Y'all watch the rest of this interview in Arise's media feed.#endsars #EndBadGovernanceinNIGERIA pic.twitter.com/FtTWVFiUMb

— – melody (@Jachimma_x) October 29, 2020
'Many Countries Became Developed With The Strengths Of Their Youth' – Tonto Dikeh
Nigerian actress and entrepreneur, Tonto Dikeh, took to her Twitter page on Wednesday evening to reveal how many countries became developed over time. The Federal Government recent appointee credits their development to the strengths and potential of their youth.
The movie star shared a portrait photo of herself and captioned it thus:
"MANY COUNTRIES BECAME DEVELOPED WITH THE STRENGTHS & POTENTIALS OF THEIR YOUTH."
Information Nigeria recalls the 35-year-old Port Harcourt-born humanitarian was criticized by Nigerians on social media for her silence on the trending #EndSARS movement.
Read Also: 'Do Not Expect Me To Wear Your Product And Tag You' – Tonto Dikeh Tells Clothing Vendors
She eventually responded with fury and a vow to sue a blogger who published a report about her saying that she was silent because of her affiliations with the government.
See her Twitter post below:
'SARS Are Still Harassing People On The Streets' – Actress Kemi Lala Akindoju
Nigerian actress, Kemi Lala Akindoju, is frustrated over the fact that the Special Anti Robbery Squad (SARS) officers have not stopped harassing people on the streets.
The movie star took to her Twitter page to lament about the fact that it seems Nigerians are helpless regarding SARS and police brutality.
In her words:
"Meanwhile we still have SARS officers harassing people on the streets of Nigeria. What are we REALLY going to do???? #EndSARS"
Read Also: #EndSARS: 'Lagos Curfew Will Not Discourage Us' – Actress Kemi Lala Akindoju
Reacting to the video of Desmond Elliot proposing the regulation of social media, she writes:
"This 'respect' mentality has really done a number on us in Nigeria. Hon Desmond is more concerned about 'children' cursing on social media than he is about better governance and true leadership. Again he has shown us his priorities"
See her tweets below: