Star Wars Actress Carrie Fisher Has Died Aged 60
American actress Carrie Fisher who best known for playing Princess Leia Organa in the massively popular space saga, Star Wars, died on Tuesday. She was 60.
Fisher died four days after suffering a cardiac event on a flight from London, according to reports.
Her daughter Billie Lourd said the actress passed away on Tuesday morning after being taken ill travelling from London to Los Angeles.
A spokesman for the family said: "It is with a very deep sadness that Billie Lourd confirms that her beloved mother Carrie Fisher passed away at 8:55 this morning. "She was loved by the world and she will be missed profoundly. Our entire family thanks you for your thoughts and prayers."
As news of her death was announced, tributes immediately poured in from actors and admirers. Mark Hamill, who played Luke Skywalker, her on-screen brother, said he was devastated, adding there were "no words".
Harrison Ford said she was "one-of-a-kind" who lived her life "bravely", adding: "My thoughts are with her daughter Billie, her mother Debbie, her brother Todd and her many friends. We will all miss her."
The creator of Star Wars, George Lucas, said: "Carrie and I have been friends most of our adult lives. She was extremely smart; a talented actress, writer and comedienne with a very colourful personality that everyone loved.
"In Star Wars she was our great and powerful princess – feisty, wise and full of hope in a role that was more difficult than most people might think. My heart and prayers are with Billie, Debbie and all Carrie's family, friends and fans. She will be missed by all. George Lucas."
English actress Daisy Ridley, who played Rey in The Force Awakens, says she was "devastated at this monumental loss".
And director of the same film, J J Abrams, posted a handwritten note to Twitter which read: "You didn't need to meet Carrie Fisher to understand her power. She was just as brilliant and beautiful, tough and wonderful, incisive and funny as you could imagine. What an unfair thing to lose her. How lucky to have been blessed with her at all."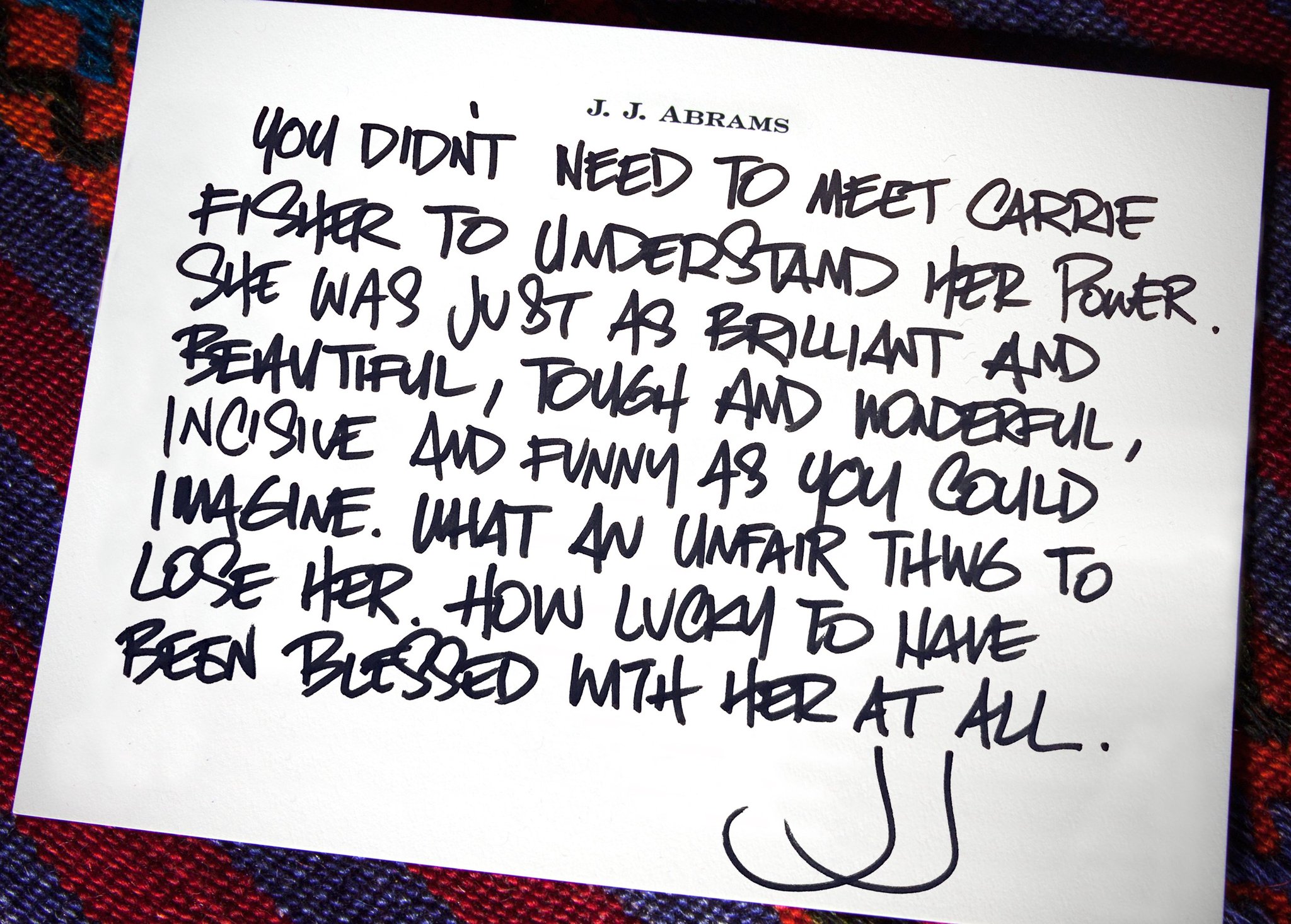 Nse Ikpe-Etim Reacts To Desmond Elliot's Call For Social Media Regulation
Nigerian actress, Nse Ikpe-Etim, has reacted to the call for social media regulation by popular actor cum Lagos lawmaker, Desmond Elliot.
A fan had tweeted at the movie star and a few of her colleagues known to be friends with Elliot requesting their opinion on his speech.
"@HenshawKate, @uchejombo, @IshaSesay, @NseIkpeEtim, @MichelleDede … Respectfully asking; don't you guys still hangout with Desmond? I sincerely think if you guys do he would be better at representing the people", the fan asked.
Read Also: Nse Ikpe-Etim Goes Into Self-Isolation After Returning From UK
Ikpe-Etim retweeted the tweet with a comment that reads:
"A basket can hold many seeds, not all would be worth planting. This reply is also respectfully."
See her reply below:
'If You Are Arrogant, Stay Away From Public Service' – Film Director, Mildred Okwo Tells Lawmakers
Nollywood film director and producer, Mildred Okwo, has advised arrogant people to stay away from public service in Nigeria. The award-winning filmmaker took to her Twitter page to dish out the advice.
She also shared her take on the lawmakers who are blaming the recklessness of some Nigerian youths on social media.
In her words:
"If you are arrogant, stay away from public service."
Read Also: 'Testing Cast And Crew For COVID-19 Is Expensive' – Filmmaker Mildred Okwo
"Dear Reps, one or two of the youth on social media you malign are supposed to be in your employ to help you read & understand ur constituent's needs. You are also supposed to create avenues for the hoodlums who helped put you in power to become responsible citizens"
See her posts below:
Rapper Pepenazi Ties Knot With His Fianceè, Janine
Nigeria rapper, Pepenazi,who is also media personality Dotun's brother, finally tied the nuptial knot with his fiancée, Janine on Friday.
According to reports, the couple got married at the Ikoyi registry, Lagos in the presence of their close friends and family.
OAP Dotun broke the exciting news on social media and he also shared photos from the civil marriage ceremony.
In the photos, Pepenazi, who is now a married man, wore a dapper tuxedo while his bride donned a beautiful white gown.
Information Nigeria recalls the pair got engaged in February.
Read Also: Singer Pepenazi Proposes To His Girlfriend (Video)
See the photos below: