World Mental Health Day: 10 Facts To Know About Mental Health
World Mental Health Day holds today October 10.
It is a day dedicated to the education, awareness and advocacy of mental health in the world.
It was first celebrated in 1992 at the initiative of the World Federation for Mental Health, a global mental health organisation with members and contacts in more than 150 countries.
Here are 10 facts to know concerning mental health according to the World Health Organisation (WHO):
1. Around 20% of the world's children and adolescents have mental disorders or problems
About half of mental disorders begin before the age of 14. Neuropsychiatric disorders are among the leading causes of worldwide disability in young people. Yet, regions of the world with the highest percentage of population under the age of 19 have the poorest level of mental health resources. Most low- and middle-income countries have only one child psychiatrist for every 1 to 4 million people.
2. Mental and substance use disorders are the leading cause of disability worldwide
About 23% of all years lost because of disability is caused by mental and substance use disorders.
3. About 800 000 people commit suicide every year
Over 800 000 people die due to suicide every year and suicide is the second leading cause of death in 15-29-year-olds. There are indications that for each adult who died of suicide there may have been more than 20 others attempting suicide. 75% of suicides occur in low- and middle-income countries. Mental disorders and harmful use of alcohol contribute to many suicides around the world. Early identification and effective management are key to ensuring that people receive the care they need.
4. War and disasters have a large impact on mental health and psychosocial well-being
Rates of mental disorder tend to double after emergencies.
5. Mental disorders are important risk factors for other diseases, as well as unintentional and intentional injury
Mental disorders increase the risk of getting ill from other diseases such as HIV, cardiovascular disease, diabetes, and vice-versa.
6. Stigma and discrimination against patients and families prevent people from seeking mental health care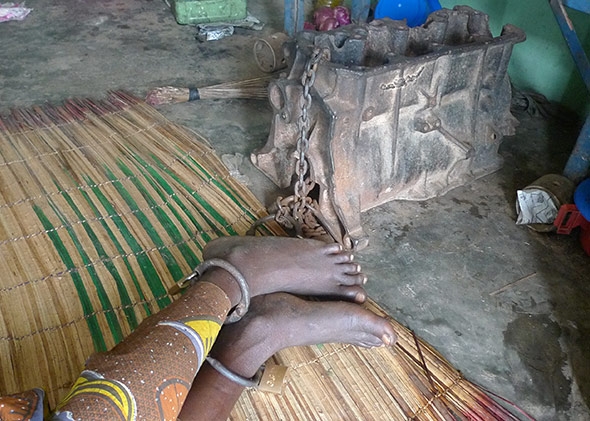 Misunderstanding and stigma surrounding mental ill health are widespread. Despite the existence of effective treatments for mental disorders, there is a belief that they are untreatable or that people with mental disorders are difficult, not intelligent, or incapable of making decisions. This stigma can lead to abuse, rejection and isolation and exclude people from health care or support. Within the health system, people are too often treated in institutions which resemble human warehouses rather than places of healing.
7. Human rights violations of people with mental and psycho-social disability are routinely reported in most countries
These include physical restraint, seclusion and denial of basic needs and privacy. Few countries have a legal framework that adequately protects the rights of people with mental disorders.
8. Globally, there is huge inequity in the distribution of skilled human resources for mental health
Shortages of psychiatrists, psychiatric nurses, psychologists and social workers are among the main barriers to providing treatment and care in low- and middle-income countries. Low-income countries have 0.05 psychiatrists and 0.42 nurses per 100 000 people. The rate of psychiatrists in high income countries is 170 times greater and for nurses is 70 times greater.
9. There are 5 key barriers to increasing mental health services availability
In order to increase the availability of mental health services, there are 5 key barriers that need to be overcome: the absence of mental health from the public health agenda and the implications for funding; the current organisation of mental health services; lack of integration within primary care; inadequate human resources for mental health; and lack of public mental health leadership.
10. Financial resources to increase services are relatively modest
Governments, donors and groups representing mental health service users and their families need to work together to increase mental health services, especially in low- and middle-income countries. The financial resources needed are relatively modest: $ 2 per capita per year in low-income countries and $ 3-4 in lower middle-income countries.
Nigerian & Jamaica Celebrates 50 Years Of Diplomatic Relations With Direct Flights to Jamaica
As the festive season approaches, travel enthusiasts and lovers of fun, relaxation or  adventure, will have a chance to create history, by being part of the first direct charter flights from Lagos, Nigeria to Montego Bay, Jamaica. The flights are in celebration of 50 years of diplomatic relations between Nigeria and Jamaica. Both countries have worked hard to promote culture, education, industrial and economic development, at different levels.
The first flight will leave Lagos on 21 December and return on 28 December 2020. A second rotation will take place from 30 December to 6 January 2021. Each flight will last for just over 11 hours and relieves the traveler of the stress of securing transit visas via Europe or the US and the uncertainties associated with multiple connections.
The flights are being coordinated by the Jamaican High Commission in Abuja and Nigerians Travel Too, a leading tour operator based in Lagos and the UK. They are also a reflection of the creative fusion of the Nigerian and Jamaican history and culture, which both partners have dubbed the Nai-Jamaica Project. A dedicated website www.nai-jamaica.com has been launched, to showcase the range of travel and business opportunities that are available.

In tandem with the upcoming flights, handcrafted holiday experiences and multiple travel packages have been designed with each visitor in mind. The main items covered include: flight tickets, accommodation, airport transfers, tours and meals among others. [Participating tour operators are also offering free visa processing and support].
Nigeria's trusted international carrier, Air Peace, will facilitate each trip with its elegant Boeing 777-300ER aircraft. Passengers will be able to travel in style and comfort across the First, Business and Economy Class cabins that are on offer at unbeatable rates.
Jamaica's High Commissioner to Nigeria, HE Esmond Reid, has hailed the direct flights as, "An historic and unique opportunity, as part of our 50th anniversary celebrations, to reconnect with family and friends from Nigeria, Jamaica, the Caribbean and other parts of the world, in a world class tourist destination".

Jamaica has won many international travel and tourism awards and has developed special COVID-19 protocols for the tourism sector. These are designed to protect and enhance the tourism experience for visitors and workers in the industry, in the face of the global pandemic.
Widely recognized as the "heartbeat of the world" and the land of Reggae Music, Jamaica is home to various tourist attractions and cultural icons such as Bob Marley, Marcus Garvey and Usain Bolt.
Visitors can never get enough of the opportunities for rafting, diving, golf, tennis, fishing, nature walks or horseback riding, among other exciting activities that are available in Jamaica. Places like the Abeokuta Nature Park and the Calabar High School also add special significance for visitors from Nigeria.
There will be nowhere else like Jamaica this Christmas and New Year. You can't afford to miss this awesome Nai-jamaica experience!!!
Tickets are selling like hot cakes. Bookings will close on 20 November to guarantee visa processing, so don't delay.
For more information on travel, tours and packages visit:
www.nai-jamaica.com
IG; @nigerianstraveltoo
'I Tested Positive To HIV After Gang Raped By 3 Men – Chef Ayomide
Nigerian chef, Ayomide Idowu, who is also a male rape survivor, has taken to his Instagram page to tell his story.
The openly gay young man recalled how he was allegedly gang raped by 3 hoodlums at the age of 19 because of his sexuality and how he eventually contracted HIV.
Ayomide revealed his life never remained the same as he was also arrested and victimized by the police.
In his words;
"I could remember last 5years ago
What I pass through from 3 hoodlums
I was thoroughly beaten and gang-raped
All because I'm Gay…they took advantage of me
I was 19years old boy then, I suffered humiliation
Arbitrary arrest from police,inhuman degrading treatment,I lost my precious Home at the age of 19years..no parents no family…it really hurts to be an orphan….after I lost my virginity from the raped….having unprotected sex from those hoodlums I WAS TESTED POSITIVE….being positive my mood changed…I started my medication and think less…I stay away from smoking and alcohol…I eat Good fruits and vegetables…thanks to God I'm a testifier now
I'm undetectable my CD4 850 viral load 10
It really worth testimony 🙏🤦im looking healthy and stunning…being HIV positive is not the end of life…it reveals the other side of you…my aims of sharing my life threatening story as an orphan,so that people can learn from this…. 5years living positively"

Read Also: GAYS are one of the most influential & successful people in Nigeria — Chef Ayomide
See his post below:
Actress Osas Ighodaro Celebrates Her 30th Birthday With Emotional Post
Nigerian actress, Osas Ighodaro penned an emotional note via Instagram as she clocked 30-years-old on Monday.
To mark her birthday, the single mother of one posted a monochrome photo of herself as she wished for people to continue praying for those who lost their lives during these turbulent period.
Ighodaro wrote;
"Thank God for another year. Happy Birthday to me. If you know me, you know I absolutely love birthdays but this year it certainly hits different. I'm overwhelming grateful for life and thankful to God to be able to see another birthday bc unfortunately many haven't and won't have that opportunity.
I am hopeful for better days for myself, those that I love and hold dear and most certainly for my country Nigeria. I pray for unity, peace, harmony and togetherness. We all deserve it.
My birthday wish is to please continue to pray for those innocent lives lost. Please remain hopeful and focused because I truly believe better days are soon ahead by God's grace.
Peace, Love and Blessings."
See her post below: