If You Vote Hillary Clinton, Madonna Promises You A Blowjob
Legendary popstar Madonna has offered oral s*x  to anyone who votes for Democratic party presidential nominee Hilary Clinton in the coming US presidential elections.
The 58-year-old made the remarks on Tuesday night as she opened a show for a comedian, Amy Schumer, at Madison Square Garden.
Madonna said to the crowd, "If you vote for Hillary Clinton, I will give you a blow job," adding, "And I'm good. I'm not a tool. I take my time."
https://www.youtube.com/watch?v=yM6wpx1tmWg
It is no secret that the pop icon is a supporter of Clinton, and this incident isn't the first of bizarre gimmicks to pledge her support.
At the end of September, she posted a naked selfie to Instagram, which has now been deleted. Wearing nothing but jewellery in the image, Madonna pledged her support for Clinton. She closed her caption with "Nude Voting series #1," indicating that there may be more to come.
Also later, she posted an image of Clinton imposed between her legs, saying: "Living For Hillary Yes I vote for intelligence. I vote for equal rights for women and all minorities. 🙏🏻😂🇺🇸🎈🙌🏻 Women Run the World now they have to get out and start supporting one another. No more misogynist feminists! No more mysogony. Get out and Vote 🇺🇸🇺🇸🇺🇸🇺🇸🇺🇸"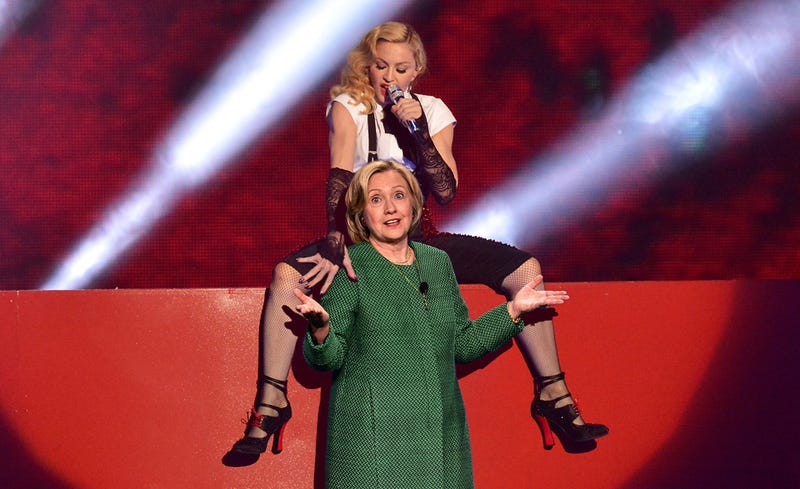 'I Hope Some Celebrities Don't Betray Us In Next Elections' – Samklef
Nigerian record music producer, Samuel Oguachuba, popularly known as Samklef, has reacted to the list of celebrities who voted in change during the last elections.
The report was made by The Punch. In the report, all the celebrities who supported the current administration were listed. The report also says that the celebrities now regret their actions.
Read Also: 'Instagram Helped Nigerian Government To Cover The Truth' – Samklef
Taking to Twitter, Samklef writes that he hopes some celebrities do not betray the people in exchange for money or positions.
His tweet reads:
"Celebs who regret supporting 'change'. I hope next election some no go betray us. Cause Na some celebrities be beneficiaries for this matter. Money dey finish o! I hope some no go sing I believe come next election for some in 2023?"
See his tweet below:
'I Was Really Suicidal', Justin Bieber Reveals
American singer, Justin Bieber, has revealed that he was really suicidal at some point in his life. The multiple Grammy award winner, who recently released a song titled 'Holy' featuring Chance The Rapper, shared this piece of information in a special documentary titled 'Justin Bieber: Next Chapter' posted on YouTube.
Read Also: Justin Bieber Works With Kirk Franklin On New Song, 'Holy'
In his words:
"There was times where I was really, really suicidal. Like, man is this pain ever going to go away? It was so consistent, the pain was consistent. I was just suffering, right? So, I'm just like, man, I would rather not feel this (pain) than feel this."
Watch the video HERE
Nigerians React As Wizkid Ignores Davido's Congratulatory Message On 'Made In Lagos'
Nigerians on Twitter have reacted to Wizkid's silence on Davido's congratulatory message to him over the release of his third studio album, 'Made in Lagos'.
Information Nigeria earlier reported that Davido held out an olive branch by posting Wizkid on his social media pages and congratulating the StarBoy Entertainment boss.
Read Also: Asisat Oshoala Reacts To Wizkid's Made In Lagos Album
Wizkid, however, is yet to respond to the message. This implies that he has seen it but willingly snubbed Davido. Hence, reactions on Twitter have been that of shock.
"The way Wizkid is so consistent when it comes to airing Davido ehn, if he had put that same energy in his album it wouldn't be trash tbh", a user identified as Dozie tweeted.
See tweets below: