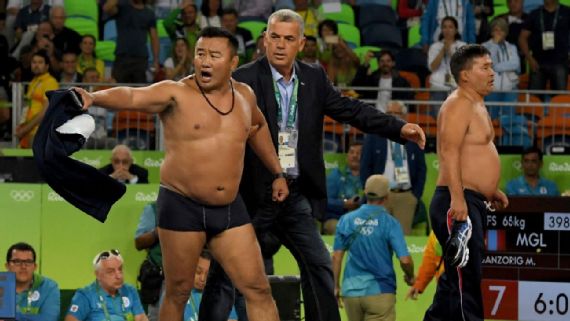 There was an odd display in the Rio 2016 Olympics on Sunday afternoon as two Mongolian wrestling coaches stripped off their clothing in a protest of a call made by officials in a bronze medal contest.
One of the Mongolian coaches, Byambarenchin Bayarra, said, "This was a protest. There was a problem with the refereeing. The Mongolian wrestler won 7-6 and he lost because of this [judges' decision]. This is the only time in history of wrestling with point penalty."
The controversy occurred when with about seven seconds to the end of the match, Mongolia's Mandakhnaran Ganzorig began running around the mat, waving his arms in front of Uzbekistan's Ikhtiyor Navruzov in celebration of his impending victory.
When the final buzzer sounded, Ganzorig was said to have been covered in the Mongolian flag by his coaches after falling to the mat in celebration.
Officials then penalised Ganzorig for his late-match antics, calling him for fleeing the hold by not engaging in the match's final seconds.That made it 7-7.
The Mongolians protested the call and lost, giving another point to Navruzov to make it an 8-7 final.
As Ganzorig rolled around the mat in frustration, one of his coaches stomped to the judges' table and slammed his hands on the mat. Then he ripped his shirt off, flexed his muscles and roared, much to the delight of the crowd.
From there, a second Mongolian coach came over, pulled his shirt off and then went one step further and dropped his pants. He picked up his pile of clothes and dumped them on the judges' table.
At the same time, the Uzbekistan coaches brought out their own flag and draped it around Navruzov as Ganzorig sobbed.
The Mongolian coaches had to be escorted by the Brazilian National Public Security Force after refusing to leave the mat.
"The referees were not good," Bayarra said. "They only supported the Uzbek. After the challenge for five seconds we win, and we are very happy for this medal."
"Three million people in Mongolian waited for this bronze medal and now we have no medal."