18 killed, 120 wounded in Libya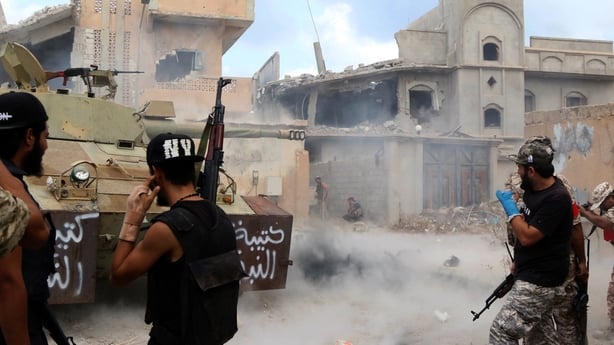 Eighteen fighters loyal to Libya's UN-backed unity government were killed and 120 others wounded in clashes on Sunday with the Islamic State group in Sirte.
A field hospital for the forces backing the Government of National Accord (GNA) listed the names of the 18 fighters killed in the coastal city, as loyalist forces pushed into the last areas held by IS in Sirte.
The pro-GNA forces are pressing a months-long campaign to retake the city from the jihadists, who overran it in June 2015.
Earlier, a spokesman for forces backing the GNA said: "Our forces entered the last areas held by Daesh (an Arabic acronym for IS) in Sirte: district number one and district number three."
About 1,000 pro-GNA fighters were taking part in the offensive, he said, adding a tank had destroyed a bomb-rigged car before IS jihadists could use it to target the forces.
Pro-GNA forces, backed since 1 August by US air strikes, began an assault in mid-May to expel IS from Sirte.
The jihadists seized control of the city, which had been the hometown of Libya's slain dictator Muammar Gaddafi, in June 2015.
The pro-GNA forces fought their way into Sirte on 9 June and seized the jihadists' headquarters at the Ouagadougou conference center on 10 August.
Since entering the city, they have faced a barrage of sniper fire, suicide bombings, and booby traps, pinning down the jihadists in a downtown area near the sea.
More than 350 pro-GNA fighters have been killed and nearly 2,000 wounded in the battle, according to medical sources. IS casualty figures are unavailable.
US Election: Trump Claims Victory Hours After Saying Biden Won
The President of the United States, Donald Trump, has declared himself the winner of the US Election 2020.
President Trump declared himself the winner of the US election in a tweet on Monday morning, November 16 by simply tweeting: "I won the election."
I WON THE ELECTION!

— Donald J. Trump (@realDonaldTrump) November 16, 2020
Also Read: US election: Trump says Biden won but again refuses to concede
This came hours after he tweeted that his opponent Joe Biden "won because the election was rigged."
He won because the Election was Rigged. NO VOTE WATCHERS OR OBSERVERS allowed, vote tabulated by a Radical Left privately owned company, Dominion, with a bad reputation & bum equipment that couldn't even qualify for Texas (which I won by a lot!), the Fake & Silent Media, & more! https://t.co/Exb3C1mAPg

— Donald J. Trump (@realDonaldTrump) November 15, 2020
The latest vote tallies project Democratic candidate, Biden a clear winner in the state-by-state Electoral College that decides the presidency, with 306 votes against Trump's 232.
However, President Trump has remained defiant, continuously claiming he won the election free and fair.
US election: Trump claims victory hours after saying Biden won
Former Ghana President, Jerry Rawlings Is Dead
Jerry Rawlings, a former Ghanaian president has reportedly died from suspected COVID-19 complications.
The former Ghanaian leader died at Korle-Bu Teaching Hospital in Accra, capital of Ghana on Thursday morning.
Rawlings led the country first as a military ruler and then as a democratically elected president between 1981 and 2001.
Also Read: FG Owes 3,504 Contractors, Fashola Tells National Assembly
Rawlings initially rose to power in Ghana as a flight lieutenant in the Ghana Air Force, following a coup détat in 1979.
After initially handing power over to a civilian government, he took control again in December 1981 as Head of State.
He was re-elected in 1996 for four more years.
Rawlings left office in 2000 after exhausting Ghana's constitutional term-limit of eight years for Presidents.
US Election Is Far From Over — Trump
U.S. President Donald Trump has refused to concede after his Democratic challenger, Joe Biden, secured the required number of electoral college votes to win the presidential race.
Shortly after Biden was projected winner, Trump in a defiant statement expressed that the election was "far from over" and criticised Biden for "rushing to falsely pose as the winner."
"Biden has not been certified as the winner of any states, let alone any of the highly contested states headed for mandatory recounts, or states where our campaign has valid and legitimate legal challenges that could determine the ultimate victor.
Also Read: Joe Biden Defeats Trump To Win US Presidential Election
"Legal votes decide who is president, not the news media.
"Beginning Monday, our campaign will start prosecuting our case in court to ensure election laws are fully upheld and the rightful winner is seated.
"The American people are entitled to an honest election, that means counting all legal ballots, and not counting any illegal ballots," Trump said.