Top 9 Marriage Taboos Esan People Have That Would Wow You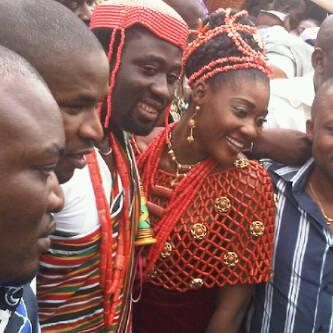 The Esan people are an ethnic group in Edo state, Nigeria who speak the Esan language. The modern Esan nation is believed to have been organized during the 15th century, when citizens, mostly nobles and princes, left the neighbouring Benin Empire for the northeast; there they formed communities and kingdoms called eguares among the aboriginal peoples whom they met there. There are on the whole 35 established kingdoms in Esanland, including Ewohimi, Ekpoma, Ubiaja, Uromi, Igueben, and Ewu. The institution of marriage is a sacred one to these people and as such have laid down rules to guide it. INFORMATION NIGERIA in this piece brings you all the taboos in Esan marriages
– When a woman is married to an Esan man, it is an abomination for another man to touch her wrapper, else it is considered as though she has committed adultery unless the married woman shouts at the man or reports to her husband.
– It is an abomination for married couples or anyone at that to have sex in the afternoon as it is believed that a certain spirit would be angered by the act.
– When a woman commits adultery, she will loose her children and her life as repercussion for the abominable act unless she confesses and as restitution, she is stripped completely nude, a part of her head is shaved, a part of her private part is shaved, one of her armpits is shaved and both of her hands are tied behind her, while a basket full of trash is placed on her head. She is then paraded around the community by other women.
– If this is not done and the woman goes ahead to cook for her children, her children will die one after the other including her. If she also confesses to her husband and out of love or pity her husband conceals the confession, he will die within a week, if he eats a meal cooked by the woman.
– It is a taboo for another man to cross an outstretched legs of a married woman else it is considered as though she already had sex with the man.
– A married woman can not steal her husband's money in Esan land as it is seen as an abomination. She must tell him about it.
– It is considered an abomination for a man to sit on the matrimonial bed of an Esan couple as it is seen as a taboo.
– It is also an abomination for a woman to spit on her husband under any circumstance. If she does, she must sacrifice a fowl to appease him but the man can bathe his wife with his own spit.
– It is seen as an abomination for an Esan man to use the same bathing bucket with his wife but due to widespread Christianity, this taboo has almost gone into extinction.
– The husband of a woman who just gave birth must stay away from her sexually for three months as she's considered unclean because of the after delivery blood she discharges.
Nollywood actress, Mercy Johnson is married to an Esan man, probably why she has a stable marriage – or what do you think???
Kwara Governor, Abdulrazaq Declares 24-hour Curfew
Following the outbreak of violence in some quarters of the State, Governor Abdulrahman Abdulrazaq of Kwara State has declared a 24-hour Curfew on the state starting on Saturday.
Governor Abdulrazaq made this known in a statewide broadcast on Friday night.
Recall that on Friday some residents of Ilorin, the Kwara State capital stormed the warehouses where the government stored COVID-19 palliatives expected to be distributed to citizens.
Also Read: BREAKING: Lagos Government Relaxes Curfew
The warehouses, located at the cargo warehouse of the International airport in Ilorin as well as the agro-mall located in the Sango area of the state were totally ransacked as residents struggled to pack as much food items as they could.
Abdulrazaq said, "Lives are being threatened. Businesses are being looted. Public properties have been targeted. This is unacceptable. It is not who we are.
"To curb these acts of criminalities, I hereby declare a 24-hour curfew in Ilorin metropolis from midnight today October 23rd, 2020. This is in line with Sections 1, 2, and 4 of the Public Order Act Chapter 382 Laws of Federation of Nigeria 2004.
"People are urged to stay indoors in compliance with this curfew. This will be reviewed as we watch developments.
"Our observation is that what has happened today is not a protest, it cannot be defended under any guide, it was a pure act of criminality as some people are hiding under the guise of nationwide protest."
Lagos Policemen Brutalise PUNCH Journalists For Covering #EndSARS Protest
Two PUNCH journalists, Femi Dawodu and Segun Odunayo, were on Wednesday brutalised by policemen guarding the Lagos State House of Assembly in Ikeja.
The duo had gone to cover events around the Alausa area, a major demonstration ground of the #EndSARS protesters calling for a total overhaul of the Nigeria Police Force.
According to the PUNCH, both Odunayo and Dawodu were recording a live video of activities in the area when the policemen accosted them and ordered them to stop the recording.
After showing the policemen their identity cards, indicating that they are journalists covering #EndSARS protests and monitoring compliance with the government-imposed curfew, the policemen became annoyed and pounced on them.
Odunayo said the policemen tortured them for four hours, adding that they stripped them of their clothes, laid them on the floor, beat them with a stick and guns, and took a video recording of them while torturing them at the Lagos State House of Assembly.
Odunayo said, "Femi and I were at the Secretariat in Alausa around 7 am and were doing a live video of the activities going on in the area. We were heading back to the expressway when a group of armed policemen accosted us at the Lagos State House of Assembly roundabout and immediately collected our phones. We showed them our ID cards, but they refused to let us go.
"What got the policemen annoyed was that we saw them using a stick and a rubber to beat a young man, and during the live video, they heard me saying that they were beating someone. So, after they arrested us, they tortured us and demanded that we should do another live video denying the statement, but we refused.
"Each Time we refused, they slapped us, used a stick to beat us, used the butt of their guns to hit our heads and bodies after stripping us of our clothes. All they wanted was for us to do another live broadcast to claim that we lied and we didn't because we told the truth."
Dawodu said it took the intervention of the state Police Public Relations Officer, Muyiwa Adejobi before they were released at the Alausa Police Station, adding that before their release, the policemen took their details, including their addresses, took a video record of them and threatened to go after them if any negative report was published about what happened.
He said, "The policemen were transferring the aggression of what is happening regarding the #EndSARS protest on us. They later took us to the Divisional Police Station in Alausa, and if not for the DPO, the policemen guarding the LSHA that arrested us would have done more grievous things to us.
"The PPRO and the DPO later spoke with them, and we were released.
"But despite his intervention, we were told to write statements. They collected our details, address, took video recordings of us making false statements during the torture, and threatened to use it to blackmail and go after us if we end up doing any bad report against them."
Sahara Reporters
CCTV At Lekki Toll Gate Was Not Removed -Lekki Concession Company Says
Lekki Concession Company in their press release has debunked the rumour that the Lekki Toll Gate CCTV camera was not removed.
According to the press release by the company which condemns the unlawful killings of the peaceful protesters said no one gave the order for the removal of the Closed Circuit Television System as the CCTV is still intact as of the time of this report.
Speaking further, the concession company revealed that if the CCTV was to be removed, it would require the use of machinery to reach the heights that they have been installed.
Read the release report below;