CHECKOUT Apple With Bigger iPhone Screens
Apple is testing iPhone display screens as large as 6 inches, according to a new report.
The screens, ranging upward from 4.8 inches, would be a pretty massive leap from the 4-inch display on the iPhone 5. But don't expect to see them when Apple rolls out new iPhones next week.
Citing "people familiar with the matter," the Wall Street Journal on Friday reported that the bigger screens could signal a future move by Apple to offer iPhones of various sizes. That would put them more in line with their chief rival, Samsung, which has put a dent in the iPhone's dominance with devices like their Galaxy S and Galaxy Note lines.
On Wednesday, Samsung unveiled its Galaxy Note 3, with a whopping 5.7-inch display that further blurs the boundary between large phone and small tablet.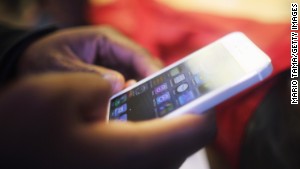 The iPhone 5's screen is 4 inches across. Future iPhones may be bigger.
On Tuesday, Apple is expected to roll out two different iPhones — an update to the iPhone 5 and a cheaper model that would be designed to appeal to buyers in emerging markets like China and India.
Apple CEO Tim Cook has knocked Apple's rivals for making "trade-offs" in order to pack larger screens into phones, although he has not ruled out such a move for future iPhones.
Opinions are split on whether Apple will also introduce other products, like a new iPad or a much-anticipated smartwatch, next week.
The Journal report said the iPhones unveiled next Tuesday will likely have the same size screen as the current model. An Apple spokesperson, predictably, declined to comment.
Criminal minds threatening Army with travel ban: Buratai
Tukur Buratai, Nigeria's Chief of Army Staff has disclosed that he does not mind living in Nigeria for the rest of his life.
Buratai made this statement on Monday in a meeting with Army Commanders in Abuja,  where they deliberated on the recent End SARS protest and pockets of violence across the country.
Information Nigeria recalls there have been calls by International bodies calling for a travel ban to be placed on some military officers accused of human rights abuses in Nigeria.
Buratai attacked the international organizations clamoring for a ban on top personnel and soldiers over rights abuses. According to him, his first trip outside Nigeria was when he was 50 and that he doesn't mind if he has to live in Nigeria for the rest of his life.
"Criminal elements are threatening us with travel ban but we are not worried because we must remain in this country to make it better. The first time I travelled outside of this country, I was already 50 years and a General, so I don't mind if I live the rest of my life here" The Cable quoted him as saying
At the meeting, the Army chief said recent events across the country have shown the determination of unscrupulous individuals and groups to cause chaos by all means.
"The events of the past few days in our dear nation have shown the determination of some unscrupulous individuals and groups to destabilise Nigeria by all means," he said.
These individuals, groups and other undesirable elements have hijacked the peaceful #EndSARS protest marches resulting to widespread violence, acts of wanton destruction and looting of public and private properties in many parts of the country. These acts led to the imposition of curfew in several states of the federation.
Despite all these, the army has continued to exercise restraint applied all the principles of internal security operations and fully abided by the internationally recognised rules of engagement as contained in our published standard operating procedures for internal security operations which are derived from the International human rights laws and are in accordance with the international principles guiding the use of force." he said.
How iron protector prevented my shop from being robbed: Business man
Chima Smart Nwaneri, a businessman who operates in Owerri, Imo state has disclosed how suspected robbers were unable to burgle his office due to an iron protector.
Nwaneri thanked God for wisdom saying they couldn't access his goods because of the protector on his ceiling.
Chima wrote on his Twitter account;
"So robbers visited my office where i do my business, but I thank God for wisdom, they couldn't enter because of the protector on the ceiling..
Help me thank God…."
#EndSARS: We are not collection of angels, Nigerian Police says
The Nigerian police have said its officers are not angels, but the force is doing its best to serve Nigerians better.
This was disclosed in a statement posted on Twitter by the force. This comes after several unrest and pockets of violence that greeted the endsSARS protest against police brutality.
The Nigerian police appear to have started an online campaign to redeem their image and rebuild trust with Nigerian citizens, following the nationwide #EndSARS protests and its devastating fallout.
The security agency which admitted that it is not a collection of angels, however told Nigerians that it is doing its best to ensure better services.
The police, Monday night, uploaded a campaign flyer on Twitter, via their official handle @PoliceNG.
"We are not a collection of angels, but we are doing our best to serve you better," said the flyer which was produced by the police public relations department, Force Headquarters, Abuja.
— Nigeria Police Force (@PoliceNG) October 26, 2020